Plyometric Exercises
Plyometric exercises are the best way to build explosive strength. Since the 70s these exercises have been used to give athletes higher vertical jumps and more explosive power.
Weight training is one of the best methods of strength training! If you want to start weight training safely and effectively, with the best info, diet, and routines, check out the 5 Day Beginner Weight Training Course!
But, you need a foundation of strength training before you start practicing plyometrics. Otherwise, you can hurt yourself.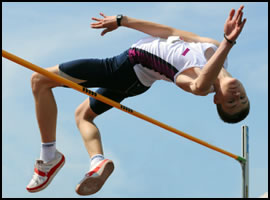 Don't know what all the hype is about? Want to know in plain language what plyometrics are? This article tells you what they are, why they work, and how to do them safely.
That way you can get the most out of your training with this little-known practice. You'll also avoid hurting yourself, which is always good. ;-)
These are 10 basic plyometric movements: 5 for your upper body and 5 for your lower body. Combine them to make your workout.
Since these movements have significant impact on your body, start slowly and work with the simpler ones first. There'll be more than enough time to move on to the more intense movements later.
These lower body plyometrics drills give you greater versatility in your exercises. They are arranged in 3 sections and give you tons of ways to pump your legs.
This 8 exercise, full-body plyometric workout covers both your upper and lower body! Print it off and add it to your current workout on your off days.
Interested in jumping higher? This page is devoted to plyometric jump training and gives guidelines for safe, effective training as well as a program for beginners.
Plyometrics training is a great way to increase your speed. This info shows you how to custom tailor your plyometrics training to increase speed.
If you like this info about plyometrics then you'll like my monthly E-Zine, Starting Strong. It keeps you updated about info added to Complete-Strength-Training.com, as well as bringing you select articles & tips. And you'll get the free e-book Train Smart, Eat Smart: Exercise Nutrition Hacks! Sign up below!
You've got the info you need to build explosive strength. Get your exercises together and start workin' out!
• Click HERE to leave 'Plyometric Exercises' & go back to the Complete Strength Training Home-page!