Best Ab Workout Info
This page is dedicated to gathering the best ab workout information around. These exercises, workouts, and routines will help you get develop powerful core muscles.
Weight training is one of the best methods of strength training! If you want to start weight training safely and effectively, with the best info, diet, and routines, check out the 5 Day Beginner Weight Training Course!
Keep in mind that core and abs exercises are awesome, but not a complete exercise routine do they make. Include them in a full weekly routine, with some form of cardio and/or weight lifting.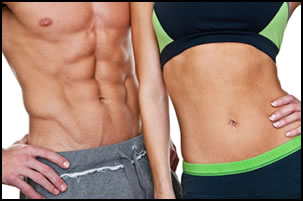 Learn about the 4 abdominal muscles and how they work. It's easier to work them it you know what's tensing up when you do what exercise.
These are the 6 best ab exercises around. If you're just starting to work out your abs and want some effective exercises, well, here's your ticket.
Pick some or all of them to add to your regular lifting routine. Or just put them together to build your own ab workout.
These top 5 exercises will tone your tummy and help get you those six pack abs. Just add these simple and highly effective exercises into your routine!
This is the best ab workout plan for beginners. It gives you six great exercises to build your body with, and gives you an hand PDF of the plan to print out and take to the gym.
If you're just starting out, I think you'll find this is your cup of tea.
For The Full Abdominal Workout Plan for Beginners
These are some great ab exercises that don't require any equipment other than your won body. Take a look, try them out, and combine them in the full abdominal workout plan for beginners.
Want to get a strong core? This info tells you why core strength is important, what muscle are involved, and what kind of exercises are the best.
Use these exercises to build a strong, stable core to help you in sports, or just walking around. Work them into your regular routine to build your abs and core.
This article deals with the unique aspects of women's ab training. It also has advice for improving your workout and what to focus on when exercising.
Planks and their variations build tons of core strength, and are more challenging than you would think. Look here for plank info, variations, how to make your plank exercises harder or easier, and why this exercise can be an integral part of your best ab workout.


If you like this core and ab training info then you'll enjoy my monthly E-Zine, Starting Strong. It keeps you updated about info added to Complete-Strength-Training.com, as well as bringing you select articles & tips. Sign up below!

That's the best ab and core workout info around. Try it out and get strong
Oh, and be sure to sign up for the e-zine Starting Strong to get monthly strength training, exercise, and diet tips e-mailed to you - and access to the free e-book Train Smart, Eat Smart: Exercise Nutrition Hacks!
• Click here to leave 'Best Ab Workout Info' & go back to the Complete Strength Training Home-page!