How To Do Exercise Stretches:
Get Flexible Fast
Exercise stretches are great for athletes and weekend warriors alike. It increases your range of motion, keeps you functional as you get older, and gives you something to show off.
Weight training is one of the best methods of strength training! If you want to start weight training safely and effectively, with the best info, diet, and routines, check out the 5 Day Beginner Weight Training Course!
It can even help ease the symptoms of delayed onset muscle soreness (DOMS). As well as keeping your feeling great!
Check out these articles about stretching and flexibility to become more limber and nimble…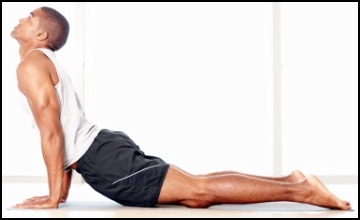 PNF stretches are a surprisingly fast and effective way of increasing flexibility. They depend on various methods of stretching coupled with isometric muscle contraction to get you damn flexible, fast.
Have stiff wrists or forearms? Wrist stretches will get them relaxed and stretched out in a jiffy. Just try out these 5 stretches and see if they're your cup of tea!
The physiology of flexibility is the reason some people are more flexible than others. If you're wondering why your friends have more flexible bodies than you have, take a look here.
Stretching before exercise is now a tradition. It is such a ritual that few question the basic premise: does stretching before exercise really reduce the risk of injury and help you become a better athlete?
We'll answer these questions, and look at the best way of working stretching into your workout program.
Ballistic stretches are rapid stretches that focus on developing flexibility in movement. Check out how to do them, as well guidelines for making them safe.
Ballistic exercise stretches are potentially dangerous and should only be attempted by people who are already in pretty good shape.
Isometric stretching is one of the most effective methods for gaining range of motion and flexibility. It's relatively easy to do and requires no equipment you don't already have. Pretty neat, no?
Try it out and see how easily you can use it to get more limber and flexible. Isometric stretching is one of those rare things that is as good as it seems.
If you're ever heard of strange Russian flexibility techniques and been interested… you don't have to be merely 'interested' anymore. Learn it.
This article contains info on what makes Russian exercise stretches so special, how to do a few of the techniques, and where to go for more ideas. Satisfy your curiosity!
Instructions and photos for how to do a standing calf stretch. And several ideas for different calf stretch variations.
Check this out for guidelines on how to do dynamic stretches, what they are best for, and why they work. They are great as a warm-up before sports or other activities!
Want to limber up your shoulder? Here're some simple shoulder and arm stretches to increase your range of motion, but won't hurt you.

If you like this info about stretching and flexibility, then you'll enjoy my monthly E-Zine, Starting Strong. It keeps you updated about info added to Complete-Strength-Training.com, as well as bringing you select articles and tips. Sign up below!
• Click here to leave 'How To Do Exercise Stretches: Get Flexible Fast' & go back to the Home-page!