Healthy Foods to Eat
To Gain Muscle and Lose Fat
Here are some basic outlines for healthy foods to eat for strength training, muscle building, weight loss, or just to be healthy. Food is fuel, and high-quality food is high quality fuel.
Weight training is one of the best methods of strength training! If you want to start weight training safely and effectively, with the best info, diet, and routines, check out the 5 Day Beginner Weight Training Course!
But first, I want to give you a heads up - I'm not a nutritionist. I'm an ACSM Personal Trainer, as well as someone with a lot of experience lifting weights.

Click here to share the diet/eating style that works for you!

And I have my own strong thoughts and ideas on the subject of food and diets. The information here is just what I've found to work, as well as what I've found good evidence for - which, interestingly enough, tend to be the same.
So, feast your eyes and stomach on these nuggets of advice…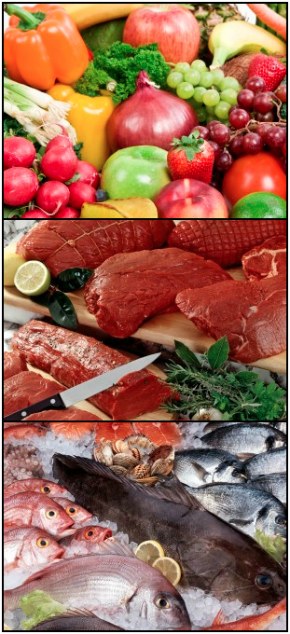 Follow this handy guide to find out what foods are healthiest for you. A good place to start if you're interested in nutrition.
Follow these healthy food tips to get healthier. It's just some simple and really effective tips.
This article deals with the conventional 6 meals a day diet that is/was in vogue with bodybuilders. And anyone else who wanted to lose weight and look good.
I even recommended it!
I've since changed my stance, but there are still reasons you might want to use the 6 meals a day diet. Check out its pros and cons here.
Just plug in your weight to find out what your daily protein requirement should be, whether you're just sitting around or exercising. It's very convenient to use.
Want more reasons to eat more chocolate? Find out why dark chocolate is one of the healthy foods to eat - in addition to tasting great!
Here are some great reasons to eat a grain free diet. I eat a virtually grain free diet for these reasons - though I do break this rule on occasion ;-)
Here are explicit instructions for incorporating intermittent fasting into your routine. It can help you to lose weight, and give you significant health benefits. Try it!
Not convinced that fasting could be an adequate health strategy? Check out these benefits of fasting to figure out why fasting from time to time can actually make you healthier.
If you're looking for foods that build muscle, try these! You need quality fuel for your muscle building efforts.
Guidance for choosing foods for a great pre workout meal. It'll give you the energy you need to perform at your best!
If you're struggling to build muscle, try a post workout drink or meal. Aside from getting enough healthy foods to eat to build your muscles, timing your food correctly and getting just the right foods (and drinks) are the next most important steps.
So, check out what the best post workout drink for yourself is!
Here're specific methods of eating to manipulate the levels of the hormone insulin in your body. Through correct insulin and bodybuilding eating styles you can gain muscle and lose fat easier.
Here are the nutrition guidelines that Bruce Lee followed. They'll help you develop strength and athletic ability similar to his.
Though to truly be on his level, you'll need to work out like a maniac as well. ;-)
Once you've got the basics of healthy foods to eat and using pre and post workout meals (if you need them), you're ready for the more advanced stuff. These diets are great for putting on muscle, and well as keeping you ripped while you do it.
There are some simple nutrition guidelines for putting on lean muscle without putting on fat. It's a difficult balance, but it's definitely doable.
The paleo diet has become really popular recently. This article duo deals with what paleolithic nutrition is and where the idea for it came from.
This second paleo food article shows you what healthy foods to eat are for eating 'paleo' style, and why eating paleo can help you lose weight. And why it might not help you lose weight, too.
What Foods Work Best For You?
What diet/foods/eating plan has worked best for you, for weight loss or great sports performance? What are 'healthy foods' for you? Why?

Share what's worked for you, and help other athletes and exercise junkies!



What Other Athletes Have Written...
Click below to see contributions from other athletes to this page...

Very, Very Healthy Foods To Eat Not rated yet
My brisk walking and jogging for 30 minutes every day, 5 times a week did not help me lose weight. I started the program to lose weight and instead started …
If you like this info about healthy foods to eat for muscle gain, weight loss, and just to be healthy, then you'll enjoy my monthly E-Zine, Starting Strong. It keeps you updated about info added to Complete-Strength-Training.com, as well as bringing you select articles & tips. Sign up below!
• Click here to leave 'Healthy Foods to Eat to Gain Muscle and Lose Fat' & go back to the Home-page!