Choose Your Strength Training Routine...
Finding the strength training routine for you can be difficult - but not here! Take a look at the different kinds of training below to narrow down what kind of strength training routine you want.
Weight training is one of the best methods of strength training! If you want to start weight training safely and effectively, with the best info, diet, and routines, check out the 5 Day Beginner Weight Training Course!
The definition of strength training will give an exact meaning & help you tailor your training to fit what you want. What strength training is, what it isn't, and what training for your muscles you want.
These basic guidelines will help you start your strength training on the right foot. It focuses on the habit and mindset to go to the gym with, so that you can get the most out of any workout routine.
Most people think of weight training when they think of a strength training routine. Lifting weights and progressively moving on to heavier ones is what you see in most gyms and health clubs.
Basic, big body movements give you the most benefit with weight training. These large movements like the squat, bench press, and deadlift strengthen your entire body.
This is the bread and butter of strength training, reliable day-in and day-out. So, learn all about it right here!
Circuit training is using several machines or exercises in a sequence, or 'circuit', for your workout. A correct machine combo will work your entire body and also helps spare your joints some of the strain they would get from other kinds of training.
However, circuits are not as good for pure strength training since the exercises are normally done back to back. But they are great for people with less time on their hands that want a cardio workout and a strength workout all-in-one!
Intervals are another great form of strength training. Doing many short intervals of a single, basic strength exercise will get you heart pumping as well as get your muscles bigger.
This is great if you want to increase your endurance. Doing intervals of push-ups or body weight squats gets me tired and panting quick, wearing down those muscles.
I am fond of intervals because I can do them at any time. If I've been busy doing school-work, writing papers, reading, & generally feel out of it, I just get down on the floor and start doing pushup intervals.
It's kinda weird at 1 in the morning, and my roommate thinks I'm a little crazy, but it wakes me up and I feel accomplished when I get back to studying 10 minutes later ;-)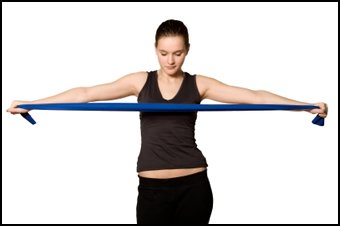 Resistance training is getting stronger using elastic bands or cords. Pull them in various ways to do many of the normal exercises you would normally use free-weights for.
This is great for travel if you need to get stronger on-the-go. Also, it places much less strain on your joints than most traditional forms of strength training.
Concentric and eccentric strength training are two kinds of muscle contraction. By understanding how they work you can build muscle size faster & balance the exercises in your workout.
Balancing your lifting is important for long term training and staying healthy. And when it also delivers bigger muscles, what's there to lose?
Strength training over age 50 can be intimidating. Are you on the right track? Will you get hurt? How can you make the most progress? Find out the essential info for your exercise right here!
Find out what TRX suspension training is and why you might want to do it. Also, read reviews that other visitors have left - sharing what they think of TRX training.
Want to know which tools to use in your strength training routine? Take a look at this guide to the most common kinds of strength training exercise equipment out there.
Use these Russian strength training techniques to kick your workout routine up a notch. You just need a strong will to apply them.
Learn guidelines for how to do strength training for martial arts; whether it's grappling, kick punch, weapons systems, or the internal arts. This isn't exhaustive, but it will point you in the right direction.
Learn how to design a strength training routine to cultivate endurance. If you've even done wrestling, or any other sport where you need a lot of strength after a minute or two of straining and effort, you know how important endurance is.
High intensity weight training is a method of weight training that became popular in the 1970s. It focuses on quickly bringing your muscles to failure with short, intense workouts.
And then getting out of the gym and resting!
Find out more about this strength training routine, and how to use it in your training. You won't spend virtually any time in the gym, but the time you do spend — it'll be brutal!
If you need to get in shape fast for an event, this is how to do it! It's brutal, but if you've been slacking off just follow these guidelines for how to re-work your body quickly.
If you're looking for info about how to start your strength training routine - or just garden variety exercising - look no further! This article guides you through how to start an exercise routine, step-by-step.
Want a really effective strength training routine? Check out how the masters trained in the late 1800's and early 1900's. They knew what they were doing!

If you like this info for choosing your own strength training routine you'll also like my free monthly E-Zine, Starting Strong. It keeps you updated about new pages and info added to Complete-Strength-Training.com, and includes select articles. You'll also get the free e-book Train Smart, Eat Smart: Exercise Nutrition Hacks! Sign up below!
A good definition and examples of all different kinds of strength training give you a clear idea of what strength training is. Now get out there, start sweating, and do it!
Oh, and be sure to sign up for the e-zine Starting Strong to get monthly strength training, exercise, and diet tips e-mailed to you - and access to the free e-book Train Smart, Eat Smart: Exercise Nutrition Hacks!
• Click HERE to leave 'Choose Your Strength Training Routine...' & go back to the Complete Strength Training Home-page!