How To Become A Personal Fitness Trainer
In the spring of 2011 I decided to become a personal fitness trainer. And, little more than a month later, I became a certified personal trainer through the American College of Sports Medicine (ACSM).
I learned a lot about strength training, exercise, fitness, and nutrition in the process - and a lot about 'certification' ;-) Choosing, studying for, and taking the exam to become a certified personal trainer was much more confusing than I thought it would be, or should be.
So here's my guide to becoming a fitness trainer. It has a lot more info on the ACSM than other organizations because, simply, that's what I know.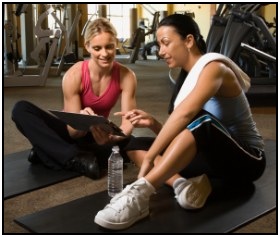 This short article explains what a personal trainer is, and what a personal trainer should be able to do. A basic overview of fitness trainer info.
Here's my (rather long) assessment of 8 of the major personal training organizations. I examine their strong points and weak points, and explain why I chose the ACSM.
This is the step-by-step method I followed to become a personal fitness trainer with ACSM in about a month, which is about 2 months faster than normal! It will walk you through every part of the process, from getting info about their program, to taking their test and getting certified.
This page focuses on how I studied to pass the ACSM exam. It explains exactly what I did, and it includes a few tips and tricks to make sure you master the material and pass the test on your first try.


If you like this info about becoming a personal fitness trainer and are interested in strength training & exercise, then you'll enjoy my monthly E-Zine, Starting Strong. It keeps you updated about info added to Complete-Strength-Training.com, and also brings you select articles and tips. Sign up below!
• Click here to leave 'How To Become A Personal Fitness Trainer' & go back to the Home-page!