Powerful Plyometrics for Speed
Training plyometrics for speed is an excellent way of getting faster. Speed is an essential part of many sports, and being faster than your opponent always gives you an edge.
Weight training is one of the best methods of strength training! If you want to start weight training safely and effectively, with the best info, diet, and routines, check out the 5 Day Beginner Weight Training Course!
You can develop that edge through plyometric training programs and exercises that push your speed to new levels. Work hard and you'll get tons faster!
How Do Plyometrics Build Speed?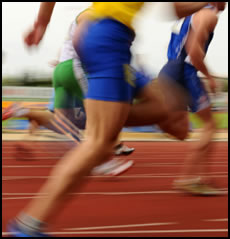 Plyometric training is specifically designed to make your muscular contractions more explosive. That is, to make your muscles contract more forcefully in the same amount of time, or to shorten the time it takes for them to contract as forcefully.
Or both!
So, when you work on plyometrics for speed you've got to focus on making your muscle contractions happen faster. Of course, there are a few tips for helping this along.
1. Focus On Speed
It's trite, but true. When you do your plyometrics drills, you should keep a relaxed focus on doing them as fast as possible.
Don't put a ton of pressure on yourself — that'll make you tense up and go slower. Just keep that relaxed focus on performing as fast as you can.
2. Do NOT Fatigue Yourself
Plyometrics for speed trains your muscles to contract fast. You're focusing on just using those fast twitch muscle fibers, not the slower twitch endurance fibers.
As you tire, your muscle contractions slow down. So, don't work to the point of fatigue!
Do plyometric exercises only when you can focus on doing them fast, and in small sets. This keeps the quality of your form high when doing these exercises.
3. Do Exercises That Mimic Sports Moves
If you want to snap a punch out there, do clapping push-ups or include depth push-ups. If you're a sprinter, try jump squats.
Do you do a lot of turning while in a small stance? Do you primarily move side to side, maintaining your stance, and only face one direction?
Try to make the movements of your exercise mimic your sports movements. That will give you the most carryover benefit from your training to your activities.
4. Test Yourself
This is extremely important to find out if your training is paying off. Test yourself before you do your exercises and then after you've been doing them for 6, 8, or 12 weeks. Keep the tests the same (speeds or weights lifted in specific exercises, movement drills, etc.) to check your progress.
You can have a friend time your running, punches, kicks, etc. If you want to be really precise and take it to a higher level, film your movements and then compare your speeds on tape.
Bottom line: Gauge your progress so you know that you ARE progressing.
Perfecting Your Speed Training
The best way to increase the pace of your muscular contractions is through plyometrics for speed. However, if you're going for speed in sports, athletics, or martial arts, there are other elements that make up the greater whole of your speed.
There's mental relaxation, perception speed of when someone else moves, mental decision speed of what you're going to do, initiation speed (moving from your on-guard position into your movement), and finally your performance speed (how fast you do whatever it is you're doing, which is what your plyometrics are training you for).
Plyometrics are an important part of a complete speed training regime. But they do not make up the whole regime alone.
What To Do Next...
Now, find the plyometric exercises that will work best for you. There are tons on this site, both upper and lower body plyometric exercises, as well as information on jump training.
Oh, and be sure to sign up for the e-zine Starting Strong to get monthly strength training, exercise, and diet tips e-mailed to you - and access to the free e-book Train Smart, Eat Smart: Exercise Nutrition Hacks!
• Click HERE to learn more about plyometrics!
OR
• Click HERE to leave 'Plyometrics for Speed' & go back to the Home-page!


Plyometrics for Speed
References:
Chu, Donald A. 1998. Jumping Into Plyometrics. Champaign, IL: Human Kinetics.