Reliable Kettlebell Review and Evaluation
A thorough kettlebell review can help you choose the right kettlebell. There are tons of different kinds on the market, and not all of them are quality products.
Weight training is one of the best methods of strength training! If you want to start weight training safely and effectively, with the best info, diet, and routines, check out the 5 Day Beginner Weight Training Course!
A great way of separating the wheat from the chaff is with other people reviews of various kettlebells on the market. Unbiased information from other people just like you.
Click here to submit your own kettlebell evaluation now.
Quality Reviews and Info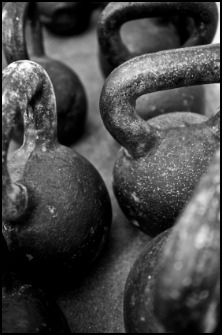 When I was first looking for kettlebells online, it was hard to find good information. Sure, a site might say its kettlebells were the best - but every merchant says that.
A place where people could come and write reviews and evaluations of any kettlebell would have been most useful. And not just for one kind of kettlebell; all different varieties.
So…
Here's an answer for that problem. Anyone can come and leave their reviews of kettlebells they've gotten from anywhere, on or off the web.
You can come and read them. Peruse them. Get the low-down on different kettlebell brands, and find which one is the best for you.
So, write a review of the kettlebell that you have. And read others.
And Please, Contribute Yours!
This selections of reviews is only as high quality as it is because of you, dear reader. Even if you just have your first kettlebell, share what you think of it. The good and the bad.
Help out someone else on the net. Share your experiences and save someone hassles that you've gone through.
Note: The stars next to each review show how helpful the review is, not the quality of the kettlebell that was reviewed.
How Do You Like Your Kettlebell?
Opinions about the kettlebell you bought? Greatest, worst, too expensive, too... whatever? Share them!
Other Visitor's Reviews
Click below to see reviews from other visitors to this page...

Oh, and be sure to sign up for the e-zine Starting Strong to get monthly strength training, exercise, and diet tips e-mailed to you - and access to the free e-book Train Smart, Eat Smart: Exercise Nutrition Hacks!
• Click here to learn more about Kettlebells & Kettlebell Workouts!
OR
• Click here to leave 'Reliable Kettlebell Review and Evaluation' & go back to the Complete Strength Training Home-page!