Your ZMA Supplement:
Shortcut or Expensive Rubbish?
Will your ZMA supplement help you put on muscle? Or just eat through your meager pocket change?
Weight training is one of the best methods of strength training! If you want to start weight training safely and effectively, with the best info, diet, and routines, check out the 5 Day Beginner Weight Training Course!
The benefits of ZMA include (allegedly) increasing both your testosterone and growth hormone. And those sound like great benefits for putting on muscle!
Hell, when paired with a great basic weight training routine your results could be spectacular! But… does it really work?
A ZMA Review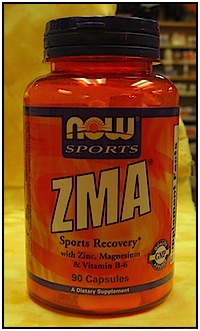 ZMA stands for zinc magnesium aspartate. Zinc, magnesium, and vitamin B6 are the ingredients in the ZMA supplements you see commonly on store shelves at your local apothecary, eh, supplement store.
Zinc and magnesium do a lot of important stuff inside your body. And they both are have been shown to increase Insulin-like Growth Factor-I (IGF-I), important for muscle and cell growth, and in some studies zinc has been shown to increase testosterone.
Which are all really good if you're weight training or doing strenuous physical exercise!
But most of that data was derived from looking at people who were zinc and magnesium deficient. Some athletes suffer from these deficiencies, since they're training all the time and might use up their nutrient stores.
However… will larger doses of zinc and magnesium bring the strength and power we want?
You can either read through the studies and info I examine below, or just skip to the end and read What This Means For You.

Intimidating Science Stuff…
Study Examination 1
In one study 14 healthy young men from 22 to 33 years old took a ZMA supplement and then had the testosterone levels in their urine measured, to test the claim that ZMA supplements increase testosterone. The results showed that the supplement increased how much zinc they were pissing out, but did nothing to increase their testosterone.[1]
Strike one!
Study Examination 2
This is the study usually used to illustrate the benefits of taking a ZMA supplement. And it was placebo controlled and double blind - cool!
57 Varsity football players were recruited for the trial, and each took 3 ZMA capsules (30 mg zinc monomethionine aspartate, 450 mg magnesium aspartate, and 10.5 mg vitamin B-6) before bed each night.
Only 27 football players completed the study (15 placebo, 12 supplement). Some forgot to take the ZMA supplement, and some were injured during the course of the study and couldn't continue their training.
In this study, those in the ZMA group showed significant increases in (IGF-I) and testosterone, as well as muscle strength and mass. Yay!!!
Though only 12 people benefitted? Still, a success! The study paper concludes by stating in the conclusion...
"The results of the study are intriguing, since ZMA supplementation was associated with improved anabolic hormone profile and muscle function in already strength-trained varsity collegiate football players. Further research on applications of the novel ZMA compound and related contributing mechanisms would elucidate the effects demonstrated in this preliminary study."[2]
So the results were very promising, but more study is needed. That's science for you.
Study Examination 3
Yet another study was done that was super rigorous![3] A randomized, double blind, placebo controlled study with 42 resistance-trained male athletes with no history of using supplements. And the results - drumroll please…
Nothing statistically significant to report!
Look at the graphs below. For those taking the ZMA supplement, zinc levels increased -- but cortisol levels did too (very slightly). Cortisol is a stress hormone that actually breaks down muscle tissue.
And the ZMA group did show a slightly better body composition at the end of the study, but nothing to write home about.
You can see the graphs of the subject's physical changes below, taken from pages 6 and 7 of the study article:[4]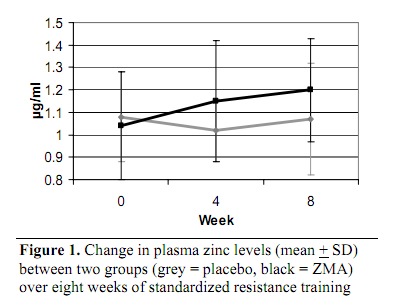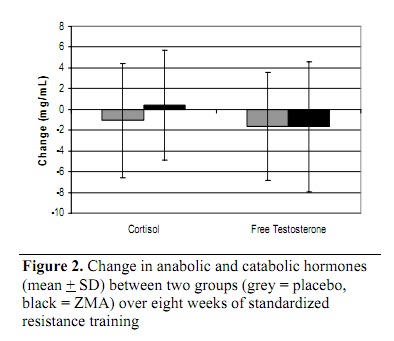 However, one major bollix up with the study is that the data above was taken only from 26 of the participants (13 placebo, 13 ZMA group). In the statistical analysis section there is a brief mention that they were only able to get the levels of zinc, magnesium, and other hormones from about half the study group because they lost the other samples! Though we do have body composition data from all 42.
Are There Any ZMA Benefits?
What All This Means For You
Basically, these ZMA reviews show that its effects are statistically insignificant.[5]
A ZMA supplement probably won't help you either gain muscle mass or get stronger. Since the major research is based on the bad stuff that happens when you have zinc and magnesium deficiencies, take a multivitamin with zinc and magnesium.
Zinc and magnesium individually have been shown to be low in athletes, probably because of their exertion and need for these minerals during exertion. But the results are inconclusive.
One study says that it works, but another shows no benefit. And the only one that did show a benefit was based on just 12 varsity football players, and it wasn't replicated.[6]
You can try it if you want. Just know that while results have been mixed, and if you're pressed for cash you can go without and not worry.
Oh, and be sure to sign up for the e-zine Starting Strong to get monthly strength training, exercise, and diet tips e-mailed to you - and access to the free e-book Train Smart, Eat Smart: Exercise Nutrition Hacks!
• Click here to learn more about The Best Muscle Building Supplement Info!
OR
• Click here to leave 'Your ZMA Supplement: Shortcut or Expensive Rubbish?' & go back to the Home-page!



References:
1. Koehler K, Parr MK, Geyer H, Mester J, Schänzer W. Serum testosterone and urinary excretion of steroid hormone metabolites after administration of a high-dose zinc supplement. Eur J Clin Nutr. 2009 Jan;63(1):65-70. Epub 2007 Sep 19. PubMed PMID: 17882141.http://www.ncbi.nlm.nih.gov/pubmed/17882141.

2. Brilla L, Conte V. Effects of a novel zinc-magnesium formulation on hormones and strength. J Exerc Physiol Online 2000;3:26–36.

3. Wilborn CD, Kerksick CM, Campbell BI, Taylor LW, Marcello BM, Rasmussen CJ, Greenwood MC, Almada A, Kreider RB. Effects of Zinc Magnesium Aspartate (ZMA) Supplementation on Training Adaptations and Markers of Anabolism and Catabolism. J Int Soc Sports Nutr. 2004 Dec 31;1(2):12-20. PubMed PMID: 18500945; PubMed Central PMCID: PMC2129161. http://www.ncbi.nlm.nih.gov/pubmed/18500945.

4. Ibid., pp. 17 - 18.

5. Ibid.

6.Greenwood, Mike, Douglas Kalman, and Jose Antonio. 2008. Nutritional Supplements in Sports and Exercise. Totowa, N.J.: Humana. Pp. 337-338.