Interval Strength Training Info For You!
Interval strength training wears me out, gets me in great shape, and makes me appreciate relaxing on a couch in the evening! After doing my normal exercises for a while I need something different to take my workout up a notch. Here's how you can get stronger and earn your sleep at night too.
Weight training is one of the best methods of strength training! If you want to start weight training safely and effectively, with the best info, diet, and routines, check out the 5 Day Beginner Weight Training Course!
What Interval Strength Training Is...
Interval strength training is just using strengthening exercises in an interval format to increase your cardio as well as your strength. Sounds a little complex, I know, but actually doing it is simple.
Interval training, or high intensity interval training (HIIT), is any kind of high intensity workout (usually done for 20 seconds to 2 minutes) followed by a period of rest or less intense workout (usually for 10 seconds to 1 and a half minutes).
The intense workout time is usually twice that of the resting time. By doing several of these 'intervals' one after another you wear yourself out.
Interval strength training is really about getting a cardio workout with strengthening exercises. The exercises will make you stronger, but you must be able to keep the exercise going and not get worn out half-way through. So, this is really more of a cardio exercise than pure strength training, but it gives you the ability to be really intense for a brief period.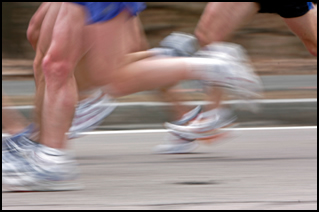 Interval training is sometimes confused with circuit training. Circuit training is designed with almost no rests in between 8 to 12 different exercises done in a sequence, the 'circuit'. Interval training gives you a short rest between intense repetitions of a single exercise and focuses more on wearing you out fast.
These are some strengthening exercises that can be used in a high intensity interval training program. To do that kind of extreme cardio with a strength exercise take guts, but will make you feel righteous the next morning when you are achy and sore. I know that's how I feel :-)
Here is an example of the Tabata high intensity interval training routine and a variety of strength exercises that I find work well with it.
Tabata Routine
20 Seconds Intense Exercise
10 Seconds Rest
Go for a total of 4 minutes making 8 complete intervals
Suggested Interval Training Exercises...
Jump squats (going to regular body-weight squats if you can't jump)
Kettlebell or Dumbbell Swings
Chin-ups (doing negs to keep going if you get too tired)
Plyometric pushups (going to regular pushups or knee pushups when you can't do any more)
Burpees

And for the crazily intense people out there:
Weighted Squats (at 60% of your 1 rep max for 20 seconds)
Bench Press (at about 60% of your 1 rep max for 20 seconds)
Clean and Press (at about 50% of your 1 rep max for 20 seconds)

Use these exercises with the Tabata routine or make up your own timed routine for what you need. You can use virtually any interval for this timing, just keep it short and intense.
Of course, do a warm up before your extreme workout. 5 Minutes of jogging, push ups, or something else to get your blood pumping is great, and not injuring yourself is great too.
This is a versatile and useful workout, and as long as you're dead tired at the end of the exercise you're doing it right.
Worn out doesn't begin to describe it. I just fall to the ground after my workout and study the clouds while trying to find my breath.
Oh, and be sure to sign up for the e-zine Starting Strong to get monthly strength training, exercise, and diet tips e-mailed to you - and access to the free e-book Train Smart, Eat Smart: Exercise Nutrition Hacks!
• Click here and get more info to complement your interval strength training!
OR
• Click here to leave "Interval Strength Training Info For You!" & go back to the Complete Strength Training Homepage!


References:
Dos Remedios, Robert. 2007. Men's Health Power Training: Build Bigger, Stronger Muscles Through Performance Based Conditioning. Emmaus, Pa: Rodale.
Contributors. "Interval Training". Wikipedia. http://en.wikipedia.org/wiki/Interval_training (Accessed February 22, 2010)