Standing Calf Stretch
How To Do It
The standing calf stretch is one of the most basic exercise stretches. You can use it to limber up before exercise, lifting, running, or to relax a muscle spasm.
Weight training is one of the best methods of strength training! If you want to start weight training safely and effectively, with the best info, diet, and routines, check out the 5 Day Beginner Weight Training Course!
So, here are a few different ways to do it and ideas for stretching. And remember to always warm-up before stretching to get the most out of it.
Calf Muscle Stretch #1
For this one, face a wall with one foot forward and one foot back. Place your hands or forearms against the wall.
Make sure that both of your feet are pointing forward. This will make sure that you're stretching your calf muscles.[1]
Keeping your rear foot fully on the ground, bring your hips forward to stretch your calf muscle. Hold it for 10 - 20 seconds.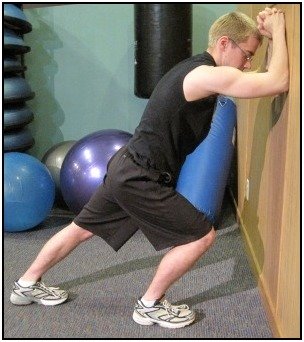 Calf Muscle Stretch #2
Stand straight up with both feet on the floor. Hold onto something (wall, bar, etc.) to keep your balance.
Contract one of your feet against the floor for 3 - 4 seconds using your calf muscle. Then relax, lift your foot off the floor, and rotate it in circles to loosen up your calf and other lower leg muscles.2
This is a useful PNF stretching technique for your calf. And very simple to do.
Standing Calf Stretch Variations
Place the ball of the foot you want to stretch up on something (small step, textbook, large broom handle, wall, etc.). Then simply lean forward to give your calf the stretch.
Also, you can stretch both calves at once using version #1, but place both feet back to be stretched. Then simply lean your hips forward to stretch you calves together.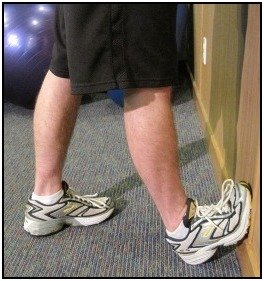 Oh, and be sure to sign up for the e-zine Starting Strong to get monthly strength training, exercise, and diet tips e-mailed to you - and access to the free e-book Train Smart, Eat Smart: Exercise Nutrition Hacks!
• Click here to learn more about Exercise Stretches & Flexibility!
OR
• Click here to leave 'Standing Calf Stretch: How To Do It' & go back to the Home-page!



References:
1. Anderson, Bob. 1980. Stretching: 20th Anniversary. Bolinas, Calif: Shelter Publications. Pp. 15.
2. Ibid. Pp. 71.