The Full Abdominal Workout Plan for Beginners
You want stronger abs? This full abdominal workout plan for beginners will give you the foundation of strength that you need.
Weight training is one of the best methods of strength training! If you want to start weight training safely and effectively, with the best info, diet, and routines, check out the 5 Day Beginner Weight Training Course!
You'll find out what exercises you need, how long the workout should be, and why it's a good foundation. Lots of good stuff!
The Routine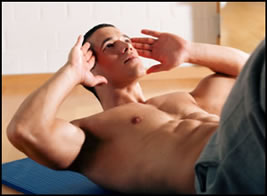 This routine is designed to give beginners a full abdominal workout. The exercises are easy to learn, there are only 6 of them, and the routine hits all 4 of the abdominal muscles.
Even if you've already got some favorite exercises, I encourage you to try this plan. Since it works you abs evenly, you'll know immediately if your regular routine hits all your ab muscles.
So if you've got one place that much sorer than the rest, you know you've found a weak spot!
Click here to Download the abdominal workout plan for beginners. If that doesn't work, try 'Right Clicking' and then selecting 'Save File As...'
You should be able to do this workout in about 10-15 minutes at the end of your regular workout. Nothing too fancy; just work your abs like any other body part.
Work your abs 2-3 days a week for just those 10-15 minutes in the beginning; not 20 or 30 minutes. I know it doesn't sound like much, but it will work. If you wanted a stronger squat you wouldn't squat with weight for 20-30 minutes; that'd make you so sore you'd go lose ground and get weaker!
To see the exercises in the full abdominal workout plan, just click here!
This routine is based on the one given in in The Complete Book of Abs by Kurt Brungardt, a truly excellent book on abdominal training. If you're serious about developing your abs I highly recommend it.
You should pare this with a good regular weight training routine so that your whole body gets stronger along with your abs. I think that full body strength is important for getting functional use from the strength and power you're working hard to cultivate.
So, give the plan a good try. Simply, make your abs stronger!
Oh, and be sure to sign up for the e-zine Starting Strong to get monthly strength training, exercise, and diet tips e-mailed to you - and access to the free e-book Train Smart, Eat Smart: Exercise Nutrition Hacks!
• Click here to learn more about ab exercises and workouts!
OR
• Click here to leave 'The Full Abdominal Workout Plan for Beginners' & go back to the Complete Strength Training Home-page!


References:
Brungardt, Kurt. 1993. The Complete Book of Abs. New York: Villard Books.