What Is A Personal Trainer?
"What is a personal trainer?" In my opinion, it is someone with theknowledge to help another train themselves physically, and the energy, inspiration, and skill to communicate that to the other person - and help them improve.
Weight training is one of the best methods of strength training! If you want to start weight training safely and effectively, with the best info, diet, and routines, check out the 5 Day Beginner Weight Training Course!
Why does my opinion matter? Because I'm a Certified Personal Trainer with the American College of Sports Medicine (ACSM).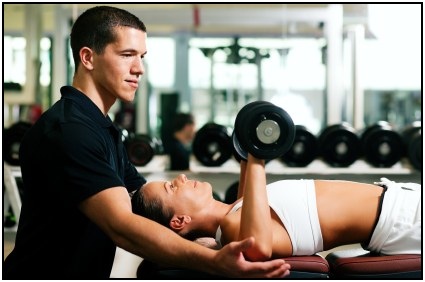 The 'Official' Definition of a Personal Trainer
Every different personal trainer certification course and organization has its own pet definition of a personal trainer. I find this rather annoying, but in any case they are all very similar.
According to the American College of Sports Medicine, a Personal Trainer is a...
"…fitness professional who develops and implements an individualized approach to exercise leadership in healthy populations and/or those individuals with medical clearance to exercise."
Basically, a personal trainer is someone who can guide the average person to an exercise program that will safely provide them with results. That's it.
What A Personal Trainer Does
The most important personal trainer requirements are the abilities to...
Test clients to discover what kind of exercise (if any) is appropriate.


Choose exercise(s) that are fun.


Design a workout plan.


Show clients the correct form for exercises - and be able to not be out of shape when doing them ;-)


Motivate clients to workout.


Know when you should refer your clients to other professionals for whatever reason.


And, if necessary, be able to perform CPR.


OK, Now How Do I Become a Personal Trainer?
OK, you've got your answer to, "What is a personal trainer?" If you want to pursue your education to become personal trainer, check out my guide to the best personal trainer certification organizations, which should help you choose a program that works for you.
Oh, and be sure to sign up for the e-zine Starting Strong to get monthly strength training, exercise, and diet tips e-mailed to you - and access to the free e-book Train Smart, Eat Smart: Exercise Nutrition Hacks!
• Click here to learn more about How to Become a Personal Fitness Trainer!
OR
• Click here to leave 'What Is A Personal Trainer?' & go back to the Home-page!