What Is Isometric Exercise?
"What is isometric exercise?" Simply put, isometric exercise is a form of exercise where you contract your muscles against an immobile object, unmoving, like a wall or a bar you can't lift.[1]
Weight training is one of the best methods of strength training! If you want to start weight training safely and effectively, with the best info, diet, and routines, check out the 5 Day Beginner Weight Training Course!
When you do isometric workouts, you exert a muscle group as much as possible, building strength in the position in which the exercise is done. It also trains your body to exert maximum muscle force, even though itlooks like you're not doing anything.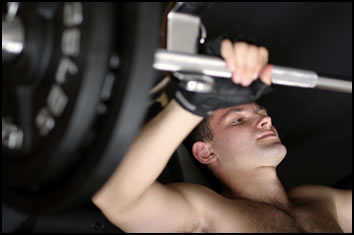 Sometimes dynamic tension exercises are referred to when the question, "What is isometric exercise?" gets asked. Dynamic tension exercises are when you use one part of your body to push against another part, such as pressing your palms together. Since your muscle length doesn't change, it's isometrics.
History

Isometric exercise was popularized in the 60's as a 'new' and improved form of exercise, promoted by Bob Hoffman and a few others. However, it lost steam when it came out that many of the bodybuilders using isometrics also used steroids.
In recent years it has attracted interest as a useful complement to traditional weight training. Just another excellent way to get stronger.
Bruce Lee used isometric exercises to great effect, enhancing his usual weight lifting. It was one of the many unusual techniques he used to get strong.[2]
The Idea
In addition to doing a regular lift at the gym, take a position at the top or bottom of the lift. With the bar adjusted so it can't move, push against it with all your strength for a short period of time.
The angle of your joints and the length of your muscles don't change in isometric contraction. So, to build strength in a lift, you should do several isometric positions throughout the lift: at the lowest point, at a middle point, and at the position right before you end the lift.
Since the position is static, you can't see any result from the force you exert. You must continually push yourself to exert as much force as you can and to avoid slacking off.
Using Isometric Exercise
Isometrics are not magic bullets, but they can be very beneficial to practice along with regular weight lifting. Find a basic routine that will complement the lifts you're doing and try it for at least a few months.
Like anything real, isometrics will be effective only with diligence and hard work. But if you work it, isometrics will build you up.
Oh, and be sure to sign up for the e-zine Starting Strong to get monthly strength training, exercise, and diet tips e-mailed to you - and access to the free e-book Train Smart, Eat Smart: Exercise Nutrition Hacks!
• Click HERE to learn more about isometric exercise!
OR
• Click HERE to leave 'What is Isometric Exercise?' & go back to the Home-page!


What is Isometric Exercise?
References:
1,2. Lee, Bruce, and John R. Little. 1998. The Art of Expressing the Human Body. Boston: C.E. Tuttle Co. Pp. 35-38.