The Essentials of Weight Training Technique
I've gotten hurt lifting weights and I HATE IT. Correct weight training technique could have prevented the time and frustration that it took to recover from my elbow injuries. I don't want you to go through that.
Weight training is one of the best methods of strength training! If you want to start weight training safely and effectively, with the best info, diet, and routines, check out the 5 Day Beginner Weight Training Course!
I'll go over the different components of good weight training technique and why it's important. These are simple guidelines, good pieces of strength training advice that are easily overlooked when you're being manly and pushing the envelope. Just remember to stay safe.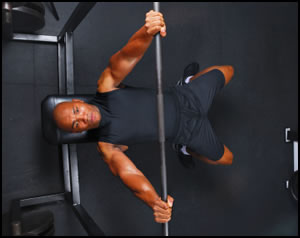 Guidelines...
1. First off, not getting hurt is good! This seems obvious, but think about it for a moment: if you don't get hurt you'll get stronger, faster.
Also, you will spare yourself a lot of pain, anger, and disappointment. The primary reason to use good technique is to avoid hurting yourself.
Make sure that the lifts you are doing are targeted to the muscles you want to make stronger. Strength training is very specific: if you want to make your entire arm movement stronger, use the bench press or a lift that targets the whole arm.
Strength training questions are great! Ask someone you trust for information, or go on the internet. Always be sure of what you're doing.




2. Don't cheat the lift when you're tired! If you can't make the lift with correct form, you can't make the lift. Period.
You know how intense lifting is, so keep that in mind and use correct posture and form when you lift – it looks stupid and it's dangerous to see someone contorting their whole body to 'toss' a dumbbell up to do just… one… more… ouch.




3. Carrying on with that idea, lift weight that you can lift. It might seem cool to grunt and show off to that blonde over there that you can bench a ton of weight, but it looks really stupid to hurt yourself in front of that girl. Really.




4. Get specific info on the lifts you're doing. These days it's easy to go to Google or Youtube for strength training advice and in 10-15 minutes know how to perform exercises with good technique.
If you are looking for books, Strength Training Anatomy and Starting Strength cover a ton of lifts and show you exactly how to perform them. Specific, correct weight training technique for the lift you're doing is the way to go.




5. I know this is cliché, but listen to your body! As you do more lifting you will come to know what good and bad pains are, and how much you should be exerting.
It takes a while to be able to immediately discern whether a new pain you start feeling is good or bad. If it's fatigue, keep going; if it's your joint or a sprain, stop immediately!




6. As far as preventative measures, make sure you stretch before and after your workout. A short stretching session before you lift is good, and then a longer one after you've lifted when you're all warmed up and limber.
A more relaxed and limber body will protect you from injuries. It'll also keep you from being that tight guy at the gym who lifts tons but can't tie his own shoes.
In a Nutshell...
Slow improvements are what you should shoot for and expect. Increase your weight gradually, use correct posture and technique for your lift, ask your strength training questions, listen to your body, & get good strength training advice.
These guidelines for weight training technique will serve you well and keep you from needless pain and injury. Having the right plan for weight lifting will build on your weight training technique, but just keeping yourself safe is the most important thing. This is easy to learn in the beginning, so do it right now.
Oh, and be sure to sign up for the e-zine Starting Strong to get monthly strength training, exercise, and diet tips e-mailed to you - and access to the free e-book Train Smart, Eat Smart: Exercise Nutrition Hacks!
• Click HERE to leave 'The Essentials of Weight Training Technique' & learn more about the benefits of physical fitness!
OR
• Click here to go back to the Complete Strength Training Home-page!


References:
Delavier, Frédéric. 2006. Strength Training Anatomy. Champaign, IL: Human Kinetics.