Weight Training Super Sets
Using weight training super sets is a great way to fatigue your muscles more than with doing just regular sets. It's a different twist for your training regimen.
Weight training is one of the best methods of strength training! If you want to start weight training safely and effectively, with the best info, diet, and routines, check out the 5 Day Beginner Weight Training Course!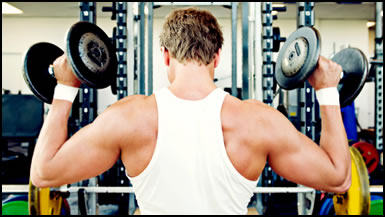 What Are Weight Training Super Sets?
Super sets are just two sets of different exercises done back to back.[1] You might do a bench press and, immediately afterward, a cable chest press.
You can either hit the same muscle or muscle group, or different ones. Hitting the same muscle group means more fatigue for that muscle group, but with slightly less weight for the second lift. Your second set will use less weight than normal since you're already tired from the first set. Really tired. And that second set includes the very last movements you can do before your tank hits empty.
Hitting different muscles means using almost regular weight for both sets since your first muscle group is resting during the second set of the super set (ex: leg press, followed by bench press). Or, do directly opposing lifts to hit one part of the body really well (ex: bicep curl then tricep extensions for your upper arms).
Some Examples For Ideas:
Bench Press - Dumbbell Fly

Squat - Leg Press

Barbell Bicep Curl - Chin Up

Cable Dumbbell Press - Push-ups

Bent-Over Barbell Row - Seated Cable Row
Just keep the initial set that you do heavy, and don't expect to be lifting fantastic weights on the follow-up sets, and you'll do fine. Also, if you're working with free weights, be careful: getting fatigued and dropping one of those puppies won't be good for anyone.
Add one super set to your workout to target a muscle group you want especially stronger, or make an entire routine out of 4-5 weight training super sets.
Why Do Super Sets?
You can fatigue one muscle group more from super sets than you can from just one set of one exercise. Or, you can just fatigue yourself more overall.
Be careful to keep the reps low to build strength, and keep the second set comparatively lighter than the first. If you start adding way more reps, you can compromise the pure strength benefits of the exercise and move it in the direction of endurance training.
Giant Sets, or Giant Super Sets

Giant sets are just three exercise sets strung together.2 It's a cool name, but it's leaving the realm of strength training at this point. The more lifts you have back-to-back, the closer this gets to endurance training.
And having four or more sets to do back to back is what circuit training is all about; having a circuit of exercises to go through for each 'set'.
Oh, and be sure to sign up for the e-zine Starting Strong to get monthly strength training, exercise, and diet tips e-mailed to you - and access to the free e-book Train Smart, Eat Smart: Exercise Nutrition Hacks!
• Click here to learn more about Weight Training for Beginners!
OR
• Click here to leave 'Weight Training Super Sets' & go back to the Home-page!


Weight Training Super Sets
References:
1. Weight Training For Dummies by Liz Neporent, Suzanne Schlosberg, Shirley J. Archer. Pp. 314-315.
2. Ibid. Pp. 316.