Weight Training For Teenagers
Weight training for teenagers can mean fast gains in strength, as well as setting you up to get stronger for the rest of your life. We'll look at how safe weight training is, how to train, and the advantages and disadvantages you have.
Weight training is one of the best methods of strength training! If you want to start weight training safely and effectively, with the best info, diet, and routines, check out the 5 Day Beginner Weight Training Course!
How Safe Is Weight Training For Teenagers?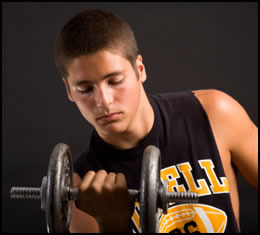 If you use good form, it's safe. If you're sloppy and put too much weight on the bar too quickly, you'll get hurt.
In fact, weight training is safer than many sports. You can systematically work with weight up to the max that you can handle with good form.
In most sports there are fast accelerations and decelerations, people running into other people or hitting them with sticks or balls, and difficult-to-control movements on the grass or court. In comparison, weight training places a much more controlled strain on the body. Thus, even for kids not yet in their teen years, weight training can be safer than sports.[1]
With good form and coaching, it's way safer than other activities like soccer and football.
Best Way For Teens To Train
Simply, build functional strength by lifting heavy free weights. They're harder to control than machines, giving you better balance and coordination along with your strength.
Once you have some large, multi-joint exercises chosen and your free weights on hand, WORK HARD! Really hard, to the point where you can't possibly lift that barbell anymore and you're epicly sore all over the next day.
Advantages
•

Increased Testosterone

This one applies only to guys, but the teen years are when testosterone starts getting produced in much higher quantities. Testosterone helps your muscles recover and get stronger faster.

This makes the teen years a perfect time to start weight training. Testosterone levels decrease slowly and steadily later in life, so take advantage of this time now!



•

Abundant Time and Energy

You will be going to school, which probably has a gym. You'll also have time after school to workout, making this a convenient time to start your weight training.

I know you have other activities; make time around them for your training.

Also, during your teen years you'll have lots of energy to pour into your training. Starting when you're middle-aged means not just more responsibilities can get in the way, but you're older and will get tired more easily.

So, do start training in your teens!



•

Good Time to Build Confidence
and Comfort in Your Body

I remember when I was a teenager, just a few years ago. One of the best things I did then was to start practicing martial arts and weight training.

Together, these activities gave me confidence in my body and allowed me to be comfortable in it. You can enjoy lifting weights while accepting the body you have - while it's becoming the body you want.

Weight training for teenagers can help you attain that confidence. Just remember, it will not make you confident - true confidence comes from inside - but weight training can definitely help.



Disadvantages/Dangers
• Being Overzealous and Impatient
You want to be tons stronger now. That desire is great, but if it pushes you to compromise your form and lift too much weight you can hurt yourself. Badly.
You've got a long life to get stronger. Yes, train hard and get sore; yes, push yourself as far as you can go each workout. But don't push the envelope too far too fast.
Results take a few weeks to really start showing. And if you want to look really ripped and get massively strong, start thinking about years of effort. It can be enjoyable, but it will take time - just stick to a good weight training workout schedule.
So...
All in all, weight training for teenagers can be very beneficial - for getting stronger and feeling better about your body. You also have some unique advantages that you won't have later in life.
Oh, and be sure to sign up for the e-zine Starting Strong to get monthly strength training, exercise, and diet tips e-mailed to you - and access to the free e-book Train Smart, Eat Smart: Exercise Nutrition Hacks!
• Click here to learn more about Weight Training for Beginners!
OR
• Click here to leave 'Weight Training For Teenagers' & go back to the Home-page!


Weight Training For Teenagers
References:
1. Rippetoe, Mark, Lon Kilgore, and Glenn Pendlay. 2006. Practical Programming For Strength Training. Wichita Falls, Tex: Aasgaard Co. Pp. 248 - 251.