The Turkish Get Up Exercise:
A How-To Guide
The turkish get up is an excellent full-body exercise. While focusing on your arm, it requires significant core strength to do correctly.
Weight training is one of the best methods of strength training! If you want to start weight training safely and effectively, with the best info, diet, and routines, check out the 5 Day Beginner Weight Training Course!
It doesn't look like much, but it's actually very difficult. Especially as you start lifting more and more weight ;-)
How To Do The Turkish Get Up
NOTE: This exercise can be done with a kettlebell or dumbbell. The exercise is the same; this example just happens to feature a kettlebell. Because I like kettlebells :-)

1. Starting lying on the ground, roll over and grab the kettlebell & pull it into your body.

2. Using 1 or 2 hands, press it straight above your shoulders. Keep holding the kettlebell straight up with one hand.
Swing your non-ketlebell arm out and bend the leg (on the same side of your body as the kettlebell) into a bent position.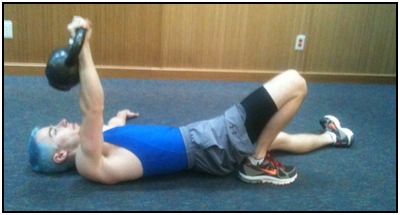 3. Bring your torso forward and up, and then press your entire body up into a bridging position.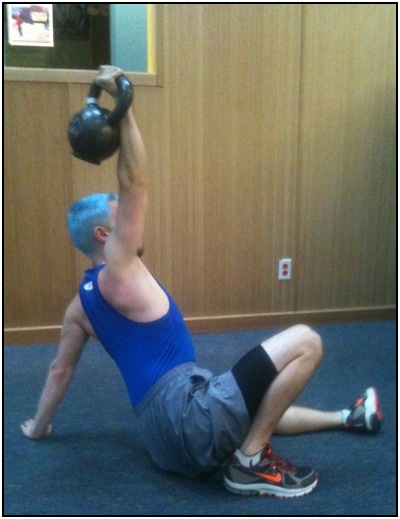 4. Bring the non-kettlebell-side-leg under you, knee to the ground. From there, push up into a standing position.
Any way that you pick up a weight from ground and stand up while holding it can also be called a turkish get up. One alternative version has you take a deep squatting position after picture 3 and then stand straight up from there.
Important Points!
Keep your wrist straight through-out the entire exercise. Bending your wrist is a great way to injure yourself.
The arm holding your weight should be pointed straight up for the entire movement. If this doesn't happen, you can lose control of the weight and hurt yourself or be unable to complete the exercise.
Alternate which hand you use to hold the weight between sets, so you develop your body evenly.
It is vitally important that you keep your body tight while you do this exercise. If not, you'll lose control of the weight and/or not be able to do the get up.[1]
When standing up, keep looking upward at the weight you're holding. This will help you keep control of the weight and keep it upright - so you don't get injured.
So, there you have it. It develops your arms, legs, and everything in between. Get a kettlebell or dumbbell and try it out
Oh, and be sure to sign up for the e-zine Starting Strong to get monthly strength training, exercise, and diet tips e-mailed to you - and access to the free e-book Train Smart, Eat Smart: Exercise Nutrition Hacks!
• Click HERE to get more info about Kettlebells & Kettlebell Workouts!
OR
• Click here to leave 'The Turkish Get Up Exercise: A How-To Guide' & go back to the Home-page!



References:
1. Tsatsouline, Pavel. 2002. From Russia With Tough Love: Pavel's Kettlebell Workout For A Femme Fatale. Saint Paul, Minn: Dragon Door. Pp. 77.