Free Strength Training Logs
Strength training logs are meant to keep you on track. Without them you're lost in a sea of iron, sweat, and, "Um, I think I'm getting stronger... maybe...?"
Weight training is one of the best methods of strength training! If you want to start weight training safely and effectively, with the best info, diet, and routines, check out the 5 Day Beginner Weight Training Course!
Knowing where you are and where you're going is vital to a successful strength training program. I'll tell you a bit about the importance of training logs, and then you can download the free strength training logs further down the page.
Important Points
The first thing you need to do is keep them up to date and moderately organized. Procrastinating and, "Oh well, I guess I'll just remember for next workout," are not the words you want to hear; write it down when you're working out! And as for organization, I'm not talking color coded folders, but something simple.
Trust me, if you don't keep your stuff up to date it gets confusing quick. I have a sheet in Word on the computer I use like the one below, and then save a new file for each week.
Training Logs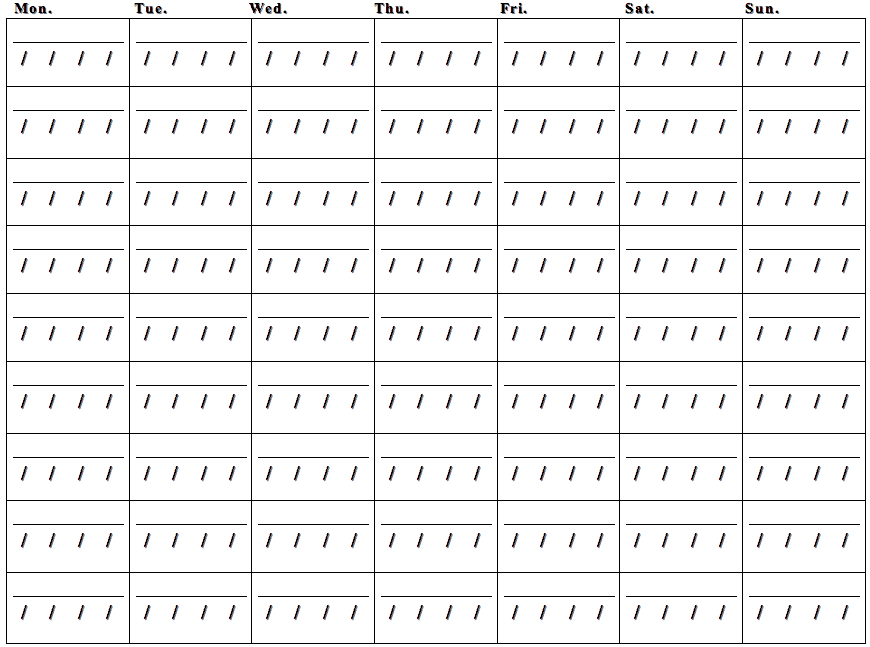 To download a PDF of the strength training log above, click here. If that gives you trouble, try right-clicking and then choosing 'Save Link As...'
You can take the image above and print it out, or download the PDF and print that. Write your exercise on the line in each box and the weight/reps below.
To download the picture, 'Right Click' it and then select 'Save Image As…' to save it someplace on your computer. Make a new file and keep all your strength training info there.
Above is the horizontal version. If you want a vertical one for your binder, simply save the image below. These free training logs make keeping track of your progress and working out a snap!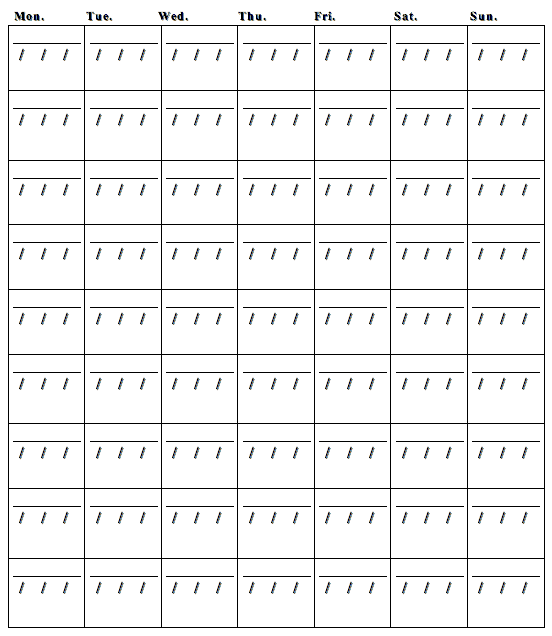 Both images appear smaller online than they really are. They are bigger so that they will easily fill a regular 8½ by 11 sheet of paper. Try playing with the margins on your Word document to get the fit right.
You can also use a 3-ring binder and just print out the sheets below and fill it out new for each week. Or any kind of spiral notebook or journal. Keep it simple.
The 10-15 minutes a week that this takes will be paid back to you many times over in your workouts. Just keep it up to date and your best strength training programs well organized, it's common sense.
Conclusion

This isn't rocket science, but it is necessary. Keeping good strength training logs allows you to see how much you've improved over time. And you will REALLY improve!
I know it's a really great feeling to look back at the weights I was lifting last year and see how much I've improved. Download the images and start recording your workouts!
Oh, and be sure to sign up for the e-zine Starting Strong to get monthly strength training, exercise, and diet tips e-mailed to you - and access to the free e-book Train Smart, Eat Smart: Exercise Nutrition Hacks!
• Click HERE to leave 'Free Strength Training Logs' & learn more about workout exercises and routines!
OR
• Click HERE to learn more about workout routines for gaining strength and muscle!