Unbeatable Strength Training Exercises For Women
In this article I've listed the top 5 strength training exercises for women, both for body-weight exercises and weight lifting. These are the best exercises of their kind and all share a few similarities.
Weight training is one of the best methods of strength training! If you want to start weight training safely and effectively, with the best info, diet, and routines, check out the 5 Day Beginner Weight Training Course!
Intro...
Firstly, they all incorporate as much of the body as possible. No calf raises or arm curls: the best way to build a strong body is to use it all together.
Second, most of these exercises are as intense as possible. Weighted barbell squats, or even regular body-weight squats, can tire you out in a hurry. This will make you stronger by doing intense, low rep workouts and you can minimize your brief time spent working out.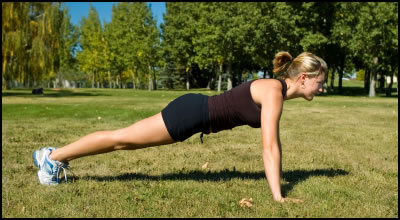 Third, all these exercises are relatively simple to learn. I hate having to learn complicated workouts or ludicrous machine exercises. Ah, simplicity...
Finally, these lists are not specifically strength training exercises for women. They are some of the best lifts for building full body strength in men as well.
This is intentional; humans, regardless of sex, are both worked intensely over their entire body by the same exercises. Humans are humans.
Now, there are a few differences in the nature of programming strength training exercises for women. But the most effective exercises are the same for both sexes.
Look over these strength training exercises for women and see how they are similar. These are excellent, full body exercises that will have you breathing hard – fast!
5 Best Free-weight Exercises
Squat
The squat puts a ton on strain on your legs and lower body. It even puts stress on your trunk (abs and core), making it almost a full body exercise.
Deadlift
The deadlift puts strain on the back and the glutes (butt muscle). Further, it strengthens the hands and grip- hitting all over the body in one lift.
Shoulder Press
The shoulder press works your entire body for stabilization and core strength as well as your shoulders. It also provides a balanced upper body lift that compliments the bench press.
Bench Press
Working your chest and arms, it's a great all purpose upper-body exercise. Balance it with other lifts like the shoulder press so that your rotator cuff gets a complete workout, not just in one direction from the bench press.
Power Clean
This builds speed and power. The explosive nature of this exercise means that it trains you to exert your strength all at once, a great skill that is only gained through fast lifting.
5 Best Body-weight Exercises
Pushup
Pushups are an awesome exercise; they work the whole upper body and put stress on your core. Weighted pushups are great for when the regular ones get too easy, or if you're looking for a special challenge.
Squat
A great lower body exercise for the glutes and quads. They stress the legs and can train you to use explosive movements if you try jump squats. However, take care to do a controlled landing; if not, these can stress your knees.
Chin-up
This is a great bicep, back, and shoulder exercise. All you need is a bar or tree limb and you're off and panting. Try doing negative repetitions (just letting yourself down) when your form starts breaking down.
Crunches
This is your basic core exercise. Crunches, side crunches, elbow to knee crunches, and other variations allow you to strengthen everything in your core.
Pistols

This is basically a one legged squat. You should do these ONLY after you have no problem doing the regular body-weight squats. These take strength and balance and make your workout much more difficult.
So, those are the best exercises. You should also keep in mind that it's good to switch your routine every few months in order to keep yourself from growing bored with it.
Oh, and be sure to sign up for the e-zine Starting Strong to get monthly strength training, exercise, and diet tips e-mailed to you - and access to the free e-book Train Smart, Eat Smart: Exercise Nutrition Hacks!
• Click HERE to leave 'Unbeatable Strength Training Exercises For Women' and get more info about women's strength training!
OR
• Click HER to go to the HOME-PAGE and get more info about strength training!