Strength Training at Home
9 Ideas
Strength training at home can be convenient and work into your schedule easily. Or, it can become a painful source of guilt and slide your motivation into apathy.
Weight training is one of the best methods of strength training! If you want to start weight training safely and effectively, with the best info, diet, and routines, check out the 5 Day Beginner Weight Training Course!
Use these tips to make your workouts doable and fun!
1. Get Rid of Distractions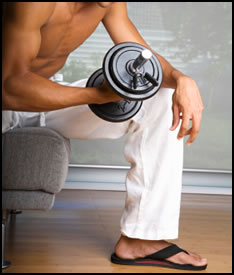 The dog? Put him out. TV goes off. Kids? Give them books to encourage early reading and put them in their room(s). Significant others can amuse themselves for an hour or so.
Don't be constantly interrupting your workout for regular, day-to-day distractions. You're working out, not on call to go off and do stuff.
2. Put on Some Epic Music!
You're at home. It's just you saving the world with the Lord of the Ringsmusic playing in the background. Or maybe Rocky, Pirates of the Caribbean, Star Wars, or whatever floats your boat.
It can be hard to give your all when you're strength training at home. But if the fate of the galaxy is in your hands, can you really afford not to give it your all? ;-)
3. Have a Set Time
Don't keep saying, "Well, I'll have time to work out later..." No, you won't, but you will have scheduled your guilt well.
Instead, make a regular, weekly schedule and stick to it. Be consistent and make it a habit.
4. Get Workout Clothing
Just because you're at home is no reason not to get good workout clothing. It's simple to buy some light shorts and a T-shirt just for exercise.
When you put on the clothing, it helps you move as well as helping you prepare yourself mentally for the workout. Seriously, putting on exercise clothes will get you in the right mindset to exercise.
5. Prepare The Space
Part of the benefit of going to a gym is the space. You can't get distracted by cleaning, homework, or that bill you need to pay since you're at the gym; the only thing you can do there is work out.
So, clear your space at home. Move the couch to the side and clear your area before working out. You've turned your living space into a gym space.
Anything not workout-related can be safely procrastinated until after your workout.
6. Concentrate
Concentrate and throw yourself into your workout! There's no reason, now that you've planned your workout and cleared time to do it, not to do you best.
7. Put Pressure on Yourself
Get a workout buddy or tell people you're working out. As always, keep track of your workouts to so you can see yourself getting stronger (or not ...).
You can also give yourself an incentive. Promise yourself that you get to eat something delicious, or buy something you really want, if you workout regularly for a week, or a month. Give yourself a reason to do intense strength training at home.
8. Try Body Weight Exercises First
Don't start exercising at home by buying expensive equipment or machines! Try something simple, like body weight exercises, and see if they work for you.
It's a shame to spend lots of $$$$ on a machine, and then find out that strength training at home just isn't your thing. Make it inexpensive and easy in the beginning.
9. It All Depends on You
Try the tips above, but if they don't work - consider going to a gym to workout. At home it all depends on your own motivation, but there are a lot of advantages to going to a gym.
See if home works for you. If it does, GREAT! If not, join a gym and/or hire a personal trainer. Be committed to working out: if this way doesn't work, try another one.
Oh, and be sure to sign up for the e-zine Starting Strong to get monthly strength training, exercise, and diet tips e-mailed to you - and access to the free e-book Train Smart, Eat Smart: Exercise Nutrition Hacks!
• Click HERE to learn more about body weight exercises!
OR
• Click HERE to leave 'Strength Training at Home' and go back to the Home-page!