Get Your Six Pack In A Week?
Can you get your six pack in a week? Well, that short answer's, "No." And while you can get a six pack fast, you should first look at why you want one.
Weight training is one of the best methods of strength training! If you want to start weight training safely and effectively, with the best info, diet, and routines, check out the 5 Day Beginner Weight Training Course!
How Long Does it Take to Get a Six Pack?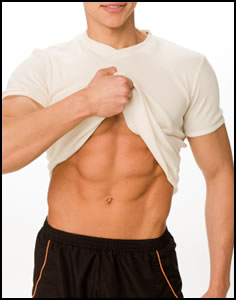 It depends! I know how much you must like that answer :-) Simply, it's a matter of low body-fat percentage and having defined muscles, which are developed through good diet and exercise.
Having a good plan is essential if you want to get ripped, though. For that,read my How to Get Abs e-book for essential exercise and diet advice.
If you have more body-fat, it'll take longer to drop the excess. If you're already in great shape from athletics, if you eat light and a lot of crunches this week you'll be able to get your abs a bit better defined.
You can get a six pack fast. But...
Why Do You Want a Six Pack in a Week?
You are trying to impress yourself and (probably) others. That hot girl you're taking on a date, those people at the beach, that handsome guy, or your friends when you go swimming.
In other words, to show off. This can be fun; I love showing off when I've written something well, got a new max on my bench press, or get my abs chiseled.
And you can impress girls and guys with hot abs, especially at parties.
But doing something solely to show off reveals insecurity. You don't like yourself the way you are; you want to be someone... different, hotter, or 'sexier'.
Someone who you think is 'better'. Someone who is superior to what you are now.
You are trying to show to others someone who is not you. And that is, unfortunately, very un-sexy.
Don't pretend to be someone else.
Having chiseled abs or looking like a Greek god won't solve your problems. Girls will like it more, probably, but some will still dump you. Same with guys. Social skills work better for dating than muscle.
And trying to get a fake six pack fast won't impress anyone. It may be cute to see you trying to show off non-existent abs, but confidence in your body image is so much hotter.
So, What To Do Next?
If you want a six pack, commit to getting a six pack. Work out, eat right, and do cardio to lower your body-fat percentage. Accept that it won't happen in a week. (If it does happen in a week, tell me how you did it. Really! I want to know ;-)
I've written a lot about how to get six pack abs; take advantage of it. But also accept yourself. Whether you get six pack abs in a few weeks or months, you will be the same person you are now.
You won't have changed. The dedication you show to get those washboard abs is already in your character.
If you want a more complete and structured six pack plan, though, check out my How to Get Abs e-book. It contains exact, step-by-step instructions for how to get ripped, with precise exercise and diet info.
Though you won't realistically be able to get your six pack in a week.
Now, do what you want to. Work hard for your cut abs, even if you can't get your six pack in a week. Do you really want it?
Oh, and be sure to sign up for the e-zine Starting Strong to get monthly strength training, exercise, and diet tips e-mailed to you - and access to the free e-book Train Smart, Eat Smart: Exercise Nutrition Hacks!
• Click here to learn how to get your six pack abs!
OR
• Click here to leave 'Get Your Six Pack in a Week?' & go back to the Home-page!