Creating Your Six Pack Body: How To Do It
Ah, how to get your six pack body and make your abs into a handy place to store loose change. Just follow these guidelines to build your body the right way.
Weight training is one of the best methods of strength training! If you want to start weight training safely and effectively, with the best info, diet, and routines, check out the 5 Day Beginner Weight Training Course!
◆
Lift Weights With Body-Building Style Routines
And Get Sore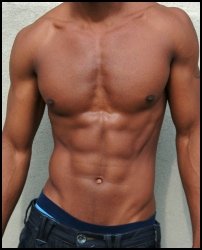 Ab work is great for your abs, but not the only thing for getting them ripped. You'll notice that people with ripped abs aren't carrying a lot of extra fat other places, and they have other muscles as well.
For a full six pack body workout plan, read my How to Get Abs e-book. Its workouts, exercises, and diet plan will get you ripped fast.
But lift weights to workout your whole body in addition to your ab routine. Muscles will burn calories just exiting (even without working out), and will draw attention to your physique so that you can then show off your abs.
Use 8 - 12 reps per set, 4 - 6 sets, and do a variety of exercises. Have a core of a few big, multi-joint exercises (bench press, squat, clean and press, deadlift, etc.) and some other more cosmetic lifts (bicep curls, dumbbell flies, etc.).
◆ Work Your Back For Good Posture

You're back is behind you, facing away from everybody who will be ogling your six pack body, luscious abs and pecs. Why work it?
Your back supports your body and your posture. Posture is extremely important; a straight back & thrown back shoulders stretch the front of your body out, accentuating all the muscles on the front of the trunk of your body.
If you only do bench presses and ab work you'll start to hunch forward since your musculature will only be used for contracting forward and together. Working your upper back will keep your back straight and abs, chest, and arms on excellent display.
Rows with cables, dumbbells, and/or barbells are great for this!
◆
Cardio
Cardio will burn calories and help you drop fat to show your abs & other muscles. Later it will also give you an excuse to show off those abs by running around shirtless.
Just do it; it's really important. Enough said.
◆
Eat Real, Unrefined Foods Regularly
Sugary power bars? Instant ramen? That's food for impoverished grad students, not people trying to build a sleek, lean, and cultivated physique. Nosh on whole grain break, raw fruits and veges, and lean meats.
And don't wait till you're hungry to think about what to eat. That's a recipe for candy, a burger at the nearest fast food joint, or whatever.
Construct your body out of quality, not 'whatever'.
Even if you don't plan out your diet meticulously, have an idea when & where your frequent (5-6 per day) mini-meals will be. And carry a water-bottle around with you; many times you'll be thirsty when you think you're hungry.
This will keep your from overeating, and the frequent meals will keep your metabolism raised.
◆
Don't Get Overly Fixated On Your Abs
Building a six pack body is important, but not deathly so. Becoming overly fixated with making progress after every workout will just defeat you, since after each workout a discernible difference probably won't be obvious.
Keep track of them, and whether or not your six pack body is developing on a weekly or monthly basis.
◆
Plan, Commit, And Reward!
Give yourself mini-goals for your training: What body-fat percentage do you want to be at in 2 weeks? 4 Weeks? Write it down!
And reward yourself as you make progress & focus on the benefits of the body you're creating. For example, write down what you will buy yourself as a reward for exercising for 2 weeks - a new book, awesome fitness clothes that show off your new body, etc.
Commit to planning your workout and your reward.
◆
Find a Routine That's Sustainable And FUN For The Time You Want Your Abs
How badly do you want your six pack body? What are you willing to sacrifice? And an even more important question, what are you willing to enjoy?
Just because this isn't easy doesn't mean it has to be a forced march- find a way of working out that works for you. Lift weights and do ab work often enough to see results, but not so that it becomes a biter & punishing doctrine.
If you want a more complete and structured six pack plan, though, check out my How to Get Abs e-book. It contains exact, step-by-step instructions for how to get ripped, with precise exercise and diet info.
Find ways to make your workouts fun. And find what level of working out you are willing to do for your results.
If you have a plan that's far too intense, that you don't enjoy, you won't stick with it long. Balance your desire for ripped abs NOW against what you're willing to do to get them.
Oh, and be sure to sign up for the e-zine Starting Strong to get monthly strength training, exercise, and diet tips e-mailed to you - and access to the free e-book Train Smart, Eat Smart: Exercise Nutrition Hacks!
• Click here to learn more about Getting a Six Pack Stomach!
OR
• Click here to leave 'Creating Your Six Pack Body' & go back to the Home-page!