7 Six Pack Abs Tips!
Use these six pack abs tips to get the jump to on your workout routine. They'll make it easier to reach your ultimate goal of getting totally ripped.
Weight training is one of the best methods of strength training! If you want to start weight training safely and effectively, with the best info, diet, and routines, check out the 5 Day Beginner Weight Training Course!
1. Get Motivated And Plum Mad Dog Mean!
Without motivation and this indomitable will get a six pack, you won't get there. The primary factor is whether you want to get it enough - enough to push through the setbacks and time it takes to get it.
This is the secret video I use to light that fire in my belly. Take a look!
2. Tell People What You're Shooting For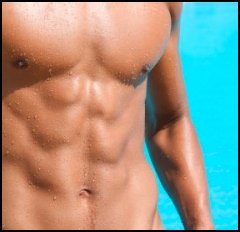 Yes, tell people! Friends, family, neighbors, countrymen, boyfriends, girlfriends!
This will help you in several ways.
First, you'll have added motivation to live up-to what you told others you're doing. And if you lapse, there will be people to get on your case - which will only help if you're really dedicated to this.
Also, you'll have people to praise you and be envious at your progress. Don't enjoy praise too much (it can be manipulative), but it certainly helps to have people telling you how much progress you've made. I know I enjoy praise!
3. Use The Power Of The 'Holy Trinity': Lifting And Ab Work, Cardio, And Diet
With these three on your side you can't get too far wrong. Any one of them will individually help you get a six pack, but all together they work wonders.
Without these, even if you follow the rest of these six pack abs tips you won't make progress. Integrate each of them into your complete battle plan for ripped abs, like the plan laid out in my How to Get Abs e-book.
4. Set Up a Battle Plan
What days are you doing what workouts? What days are you doing cardio? Are you starting a rigorous calorie counting regime, or a more laid-back approach of just eating smaller, more frequent meals?
Break what you're doing down into tiny, manageable steps and have a weekly battle plan. This shouldn't even take you an hour, and will clarify...
What you're doing,
When you're doing it, and
The complete process.
You then know what to change if you don't get results. If you don't have a plan and aren't controlling your variables, well... You won't know what you're doing (or not) and what to try changing to get ahead.
5. Don't Buy Tons Of Silly Equipment
"Along with the Ab-Master-Blaster, for only 19.99, and we'll throw in this set of sexy steak knives. And if you call now..."
Knowledge, spirit, and determination applied intelligently are better than having tons of equipment in your garage - made more to collect dust and recurring payments months than help you build abs of steel.
Save you time and money for worthwhile places. Work out hard and follow these six pack abs tips.
6. Drink Green Tea
Green tea will speed up your metabolism, helping you burn more calories. It will also give you the sensation of feeling 'full', helpful if you aren't filled up by your frequent small meals.
Also, at 0 calories, you can drink as much as you want!
7. Enjoy The Process
I will say this over and over again on this site because it's so important, ENJOY THE PROCESS OF GETTING SIX PACK ABS!
Or working out, running, or whatever you're doing. If you enjoy it you'll keep up your routine even after you've got the abs, and will have worked it into your life.
If you view your training as one of life's necessary evils then you won't stick with it. Do a routine that you enjoy and stick with, rather than a (perhaps) more intense one that you utterly hate.
◆ BONUS: 8. Don't Believe A Six Pack Body Is The End-all
A six pack body is great, certainly good for turning heads, and these six pack abs tips will help you get there. Alas, it will not solve all you problems.
You will not be able to seduce any girl or guy you want, or be the most hottest all the time.
As long as you know that having a six pack body is fun, but not everything in life, you'll be on firm ground and unlikely to have any nasty surprises. At some point you can't keep getting 'more ripped', and have to ask yourself why you feel the need to be ripped.
If you want a more complete and structured plan for getting ripped (more than just six pack abs tips), check out my How to Get Abs e-book. It contains exact, step-by-step instructions for how to get ripped, with precise exercise and diet info.
But it's damn fun to have that chiseled body! Accept yourself and at the same time work your hardest & use these six pack abs tips to build muscular abs.
Oh, and be sure to sign up for the e-zine Starting Strong to get monthly strength training, exercise, and diet tips e-mailed to you - and access to the free e-book Train Smart, Eat Smart: Exercise Nutrition Hacks!
• Click here to learn more about Getting a Six Pack Stomach!
OR
• Click here to leave '7 Six Pack Abs Tips!' & go back to the Home-page!