The Six Pack Abs Exercise Program
OK, now it's time to start your six pack abs exercise program and get some cut abs. So, um, get over to the gym and start working out...
Weight training is one of the best methods of strength training! If you want to start weight training safely and effectively, with the best info, diet, and routines, check out the 5 Day Beginner Weight Training Course!
But there's a little more to it than just working out. Ab exercises are a must, of course, but you need the right ones as well as other regular, big lifts to burn calories and get the rest of you well muscled!
If you want a full diet and exercise program, get my How to Get Abs e-book. You'll learn the specifics of diet and exercise to get yourself ripped.
Getting Started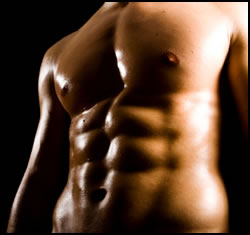 You have have your ab exercises, regular lifts, and cardio. All three of these create the six pack abs exercise program.
The ab exercises make your abs bigger and stand out more. The big, multi-joint lifts burn lots of calores and make you body look more ripped overall. And the cardio burns fat off so EVERYBODY can see those abs.
The big lifts in this workout make your body do a lot of work & exert itself more than just isolation exercises. So, you burn more calories by doing, say, the clean and press than by doing wimpy leg extensions. Bigger exercise = more total body effort.
Also, this workout is relatively short and meant to be done in 45 to 60 minutes. This is the amount of time it takes for testosterone production to peak, and keeps your workouts short and intense.
I don't like spending my whole day at the gym, and I'm guessing you don't either. You want something efficient that takes the least amount of time, for the best possible results.
The Workout

Before you start lifting do 3-5 minutes of running on a treadmill, or some other cardio exercise to warm your body up. This will keep you from getting hurt and ease you into the workout.
And at the end, set aside some time for stretching. Stretching your muscles when they are warm after a workout is when they are most pliable and you get the most stretch.
Stretching before a workout actually decreases the amount of strength you can exert in your exercises. So, use stretching as a cool-down after your exercises.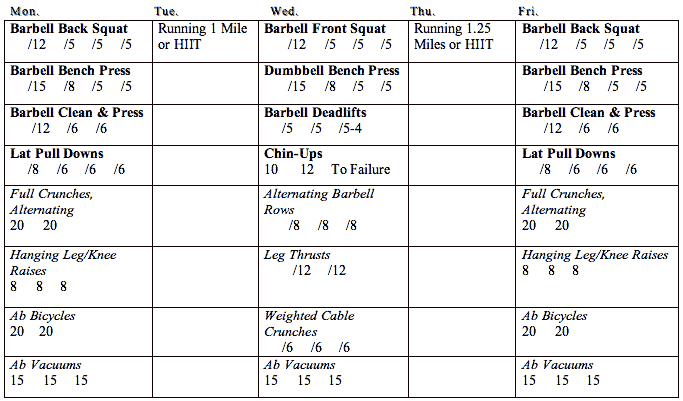 To Download a PDF version of the six pack abs exercise program, simply right-click here and then choose 'Save As' & save it to your computer.

So, download this workout and try it! Keep track of your progress, and take photos of yourself so you know how much weight you've dropped after just a month of lifting.
After a few months, you'll show amazing results!
As always when starting a new workout regime, start out slow. A little time of being inefficient and being a tortoise is worth it to not get injured. Trust me ;-)

If you want a more complete and structured plan to get ripped, though, check out my How to Get Abs e-book. It contains exact, step-by-step instructions for how to get ripped, with precise six pack abs exercise and diet info.
And remember, to give the weight lifting in the six pack abs exercise program the edge to show off your abs, eat a good diet and do the cardio. They work together to create your six pack abs.
Oh, and be sure to sign up for the e-zine Starting Strong to get monthly strength training, exercise, and diet tips e-mailed to you - and access to the free e-book Train Smart, Eat Smart: Exercise Nutrition Hacks!
• Click HERE to learn more about getting ripped abs!
OR
• Click HERE to go back to the Home-page!


References:
Brungardt, Kurt. 1993. The Complete Book of Abs. New York: Villard Books.
Geary, Michael D. 2006. The Truth About Six Pack Abs. S.l: s.n.
Rippetoe, Mark, Lon Kilgore, and Glenn Pendlay. 2006. Practical Programming For Strength Training. Wichita Falls, Tex: Aasgaard Co.
Venuto, Tom. 2003. Burn the Fat, Feed the Muscle. Fitness Renaissance, E-Book.