7 Awesome Physical Fitness Facts!
Wouldn't it be great if there were physical fitness facts that showed exercise was good for you? Well, those fitfacts are real!
Weight training is one of the best methods of strength training! If you want to start weight training safely and effectively, with the best info, diet, and routines, check out the 5 Day Beginner Weight Training Course!
It lowers your blood pressure, makes you more attractive, and keeps you healthy longer during your life! Regular exercise does all of that, and more.
I'm a particular fan of strength training because I think it makes you more useful and more competitive. But, any kind of exercise routine gives awesome health benefits.
Just stick to your exercise and don't slack off! So, as far as exercise & fitness information goes, it...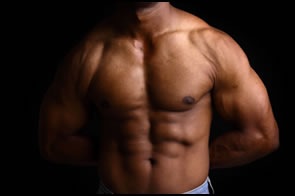 7. Makes you feel happier.
Exercise causes your body to release endorphins, which make you feel happier.[1] Life looks better after you exercise, and you've got that totally righteous feeling of having gone out and challenged yourself that day.
6. Speeds up your metabolism.
Regular exercise, and weight-lifting in particular, speeds up your metabolism.[2] This will help you stay lean by burning more calories around the clock after you've exercised. So, eat that cupcake with no guilt sprinkled on top!
5. Gives you more energy.
Exercise may feel like it tires you out, but it actually gives you more energy. A regular exercise program, especially in the mornings, will give you energy and drive for the rest of the day.
4. Helps you heal and build your body.
Regular exercise helps your body heal. Studies have been done that showed people who were active took half as long to fully heal small cuts (the most notable, recent study was done at Ohio State U).
This is one reason why exercise can keep you going later in life. It's not magic, but this is one of those physical fitness facts that can help you stay healthy and happy for the long haul.
3. Makes you look more attractive.
Simply, working out will make you more good looking. A strong, lean, healthy person looks sexier than that same person out of shape.
It also makes you feel better about your body image because YOU KNOW THAT YOU ARE MORE ATTRACTIVE. This gives you an awesome feeling of confidence.
2. Exercise Relaxes You
A normal fitness routine will keep those endorphins in your brain and give you an activity to center your life. Doing something active each day really makes a difference, and these are the kinds of physical fitness facts that make exercise worth it.
1. Keeps you healthy as you age.
There are tons of health benefits associated with an active lifestyle and regular exercise. Weight lifting has tons of benefits, including denser bones and faster metabolism.
Fitness facts about staying active include lowering your blood pressure & burning fat. You're fit, moving, and independent in your twilight years.
OK, there are more than enough reasons & fitfacts to start a regular exercise program. Basically, get your rear in gear and start exercising.
Now that you've read these physical fitness facts... please excuse me; I'm going out running today, and starting some new weight training tomorrow morning, so I need to get going!
Oh, and be sure to sign up for the e-zine Starting Strong to get monthly strength training, exercise, and diet tips e-mailed to you - and access to the free e-book Train Smart, Eat Smart: Exercise Nutrition Hacks!
• Click HERE leave '7 Awesome Physical Fitness Facts!' & learn more about the benefits of physical fitness!
OR
• Click HERE to go back to the Complete Strength Training Home-page!


References:
1. McGovern, MK. "The Effects of Exercise on the Brain". Bryn Mawr College. http://serendip.brynmawr.edu/bb/neuro/neuro05/web2/mmcgovern.html (Accessed February 19, 2010.)
2. Venuto, Tom. 2003. Burn the Fat, Feed the Muscle. Fitness Renaissance, LLC. Pp. 93.