The Patience To Lose Weight:
Slow and Steady Wins
It takes patience to lose weight. And I know patience sounds quaint, old fashioned, and not the least bit sexy these days - but it works.
Weight training is one of the best methods of strength training! If you want to start weight training safely and effectively, with the best info, diet, and routines, check out the 5 Day Beginner Weight Training Course!
Don't get me wrong, a crash diet can make you lose a significant amount of weight. But it won't all be fat - and it will be really hard to keep the weight off.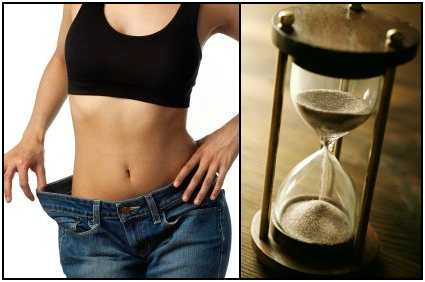 Why Slow and Steady Wins The Race

To lose the weight and keep it off, even with the best weight loss plan, you need patience. For both the physical reasons and the psychological reasons.
First, for the physical, it's hard to lose more than about 1 - 2 pounds of fat a week. If you have such a severe calorie deficit that you are losing more than that, you're also probably losing an appreciable amount of muscle, which is not what you want to do.
Second, from the psychological perspective, a crash diet is very difficult. You are constantly denying yourself the delicious foods that you want, and since you're on such a difficult diet, the cravings are even harder to resist.
Third, don't even try separating the physical and the psychological. Your body and your mind work together, and part of a good diet is knowing how to get them both to change.
And fourth, the slower you lose weight (within reason), the easier a time your body has to adapt. Slow is sustainable, while fast fractures easily.
The More You Have to Lose, The More You Need Patience to Lose Weight
If you're obese, these considerations are even more important. Losing 10 pounds to get cut might be difficult, but losing 50, 75, or 100 pounds takes uncommon dedication.
Patience to lose weight is even more important in these circumstances. It will take you time to lose all that weight, so you need a diet plan for the long haul.
And again, it will be easier to keep the weight off if your healthy diet to lose weight is slow. The faster you lose weight, the more chance there is that you'll just gain it right back.
Here Are the Most Important Ways I've Found To Gain the Patience to Lose Weight...
◆
Get Involved and Busy!
This is the most important part of patience to lose weight, in my experience. Get out there and do stuff!
When you're on a diet do not think that, "I'm On A Diet." That's a sure way to have an unhappy time and waste a lot of mental energy.
The healthiest way to lose weight and the best way I've found to diet is to immerse myself in the rest of life. Go climbing, hang out with friends, do work and get involved with interesting projects, take up a new hobby, go to the gym, play video games…
Dieting isn't a full time job. It's a change in eating habits, nothing more or less. So get on with life - which, paradoxically, will distract you and make the diet much less painful.
◆
Track Your Progress
Yes. Not neurotically, not anxiously... but track your progress.
Weight yourself once a week to get a general idea of how you're doing. Or weigh yourself every day, and see the gradual (though not perfectly direct) loss of weight. This is a simple way of tracking your progress.
Don't freak out if you're a half-pound heavier one day than the last, if you've been doing everything right. Your level of hydration, whether you weigh in after a meal, and whether you've just taken a piss or poop can make your body weight change by a pound or two.
◆
Make A Post-Diet Eating Plan
Most importantly, make a post-diet eating plan. As someone famous (and probably now dead) once said, "Failing to plan is planning to fail." Without a good post-diet eating plan, all your patience to lose weight will be wasted.
◆
Take Photos
Take photos!!!!
In the beginning this will seem embarrassing and unnecessary. Do it anyway - trust me. And if you don't trust me, at least fear/respect me enough to take a photo of yourself every month.
…Because at the end, you'll look back at that first photo and say, "Damn, I've come a long way!"
And in the middle, when you're just losing steam… this will draw your attention back to how important burning fat is to you. And to how much you've accomplished by going slowly.
Oh, and be sure to sign up for the e-zine Starting Strong to get monthly strength training, exercise, and diet tips e-mailed to you - and access to the free e-book Train Smart, Eat Smart: Exercise Nutrition Hacks!
• Click here to learn more about how to Create Your Own Best Weight Loss Plan!
OR
• Click here to leave 'The Patience To Lose Weight: Slow and Steady Wins' & go back to the Home-page!