Finding Motivation to Workout
Finding the motivation to workout can be difficult. Get off the couch, get your stuff together, drive over to the gym, lift the stuff, and the driving back. Uuhh...
Weight training is one of the best methods of strength training! If you want to start weight training safely and effectively, with the best info, diet, and routines, check out the 5 Day Beginner Weight Training Course!
These are some ideas to motivate you to get out there and exercise. It not everything, but it does have the ones I've found most helpful to getting my butt out there and lifting.
Have your own reasons for exercising? Share them - and help motivate other people by clicking here!
•
Get Your Friends to Help You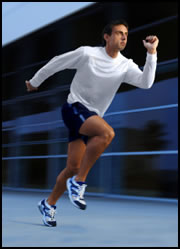 Team up with a friend/family member/significant other/pet to exercise. Make it something fun that you both enjoy, rather than a solemn obligation that you share.
And no nagging: something fun to share, right? Don't let it become a burden.
That way you can keep each other company when working out. Also, if you're not running fast enough fido will notice and keep barking for you to go faster.
•
Have Visuals
Got a picture of yourself when you were in much better shape? Keep is out where you can see it.
If not, find a picture of someone in really good shape that you want to look like. Keep that photo or image handy to motivate you.
Ideally, choose a photo of someone who's in great shape but not perfect. Pics of models are fine, but keep a realistic idea in the back of your mind when you're working toward that.
Models go through special diets and workouts to get that perfect physique. Pick a goal picture that you think you can actually accomplish.
Also, take pictures of yourself on a weekly basis. Otherwise, since you see yourself in the mirror everyday, it's hard to see your progress.
I know this from experience - after a holiday break from college I'll have time to workout. When I see my girlfriend again she says, "Hey, you're a ton more ripped!" I barely noticed any change myself.
• Music

OK, find some epic music from a TV show or movie and put it on your mp3 player/CD/cassette-player/portable-record-player-with-victrola. Now you're ready to workout!
While going to the gym and lifting, listen to the music. It's hard to notwant to go to the gym if you're listening to the fight against Sauron in The Lord of the Rings, trying to destroy the Death Star in Star Wars, or outdoing Rocky in you exercise.
Listen to it to get pumped up!
•
Do You Really Want to Exercise?
In the end, you have to want to exercise. If the above reasons haven't helped you, stop and think. "Why do I want to exercise? What is my motivation to workout?"
If you find it's because you think you should, or someone's been bugging you about it, or you want to impress someone, re-examine yourself. Those aren't healthy motivations.
You can't get your motivation to workout from guilt or insecurity; that only perpetuates your own guilt. In the end, you have to decide if want it- not your partner, not your friends, doctor, or parents, but YOU.
Maybe exercise just isn't your thing.
I know that's sacrilegious to say on a site devoted to exercise and strength training, but some people just aren't interested. If it doesn't make you tick, no amount of guilting yourself or affirmations or clever tricks will work.
Oh, and be sure to sign up for the e-zine Starting Strong to get monthly strength training, exercise, and diet tips e-mailed to you - and access to the free e-book Train Smart, Eat Smart: Exercise Nutrition Hacks!
• Click HERE to leave 'Finding Motivation to Workout' & learn more about the benefits of physical fitness!
OR
• Click HERE to leave 'Finding Motivation to Workout' & go back to the Home-page!