Basic Kettlebells Exercises
There are a few essential kettlebells exercises that form the backbone of any routine. The swing, snatch, clean, and press are excellent exercises for strength and endurance. Even if your body feels like it was hit by a truck afterward ;-)
Weight training is one of the best methods of strength training! If you want to start weight training safely and effectively, with the best info, diet, and routines, check out the 5 Day Beginner Weight Training Course!
This overview will familiarize you with these basic exercises. Having an idea of what exercises you want in your workout starts you in the right direction.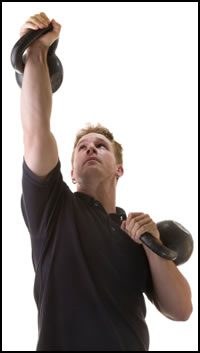 The Swing
The swing is the most basic of all kettlebells exercises. You begin in a half-squat, holding the kettlebell in one or two hands, and then snap your hips and stand up. The kettlebell will rise in front of you to about shoulder height; this is one repetition.
Swings are great kettlebell strength training for building enduring and explosive legs. Also, if you have knee problems with the impact of running, kettlebell swings with a light weight are an awesome endurance exercise instead.
The Clean
The kettlebell clean is the next movement to learn. You start in the half-squat and snap you lower body up to a standing position. During this movement you keep the kettlebell close to your body and, at the top of the movement at chest altitude, punch under the kettlebell, flipping it to the outside of your forearm and letting it rest there against you body.
This exercise is another basic kettlebell movement, but it starts to incorporate the upper body too! This 'working the entire body as a single unit' builds unified, full body strength.
I like it a lot, even though I bruised my fore-arms up a bit when I was first doing it.
The Press
For the press, you start with the kettlebell where it ends at the end of the kettlebell clean, resting against your forearm, which is resting against your chest. Starting with a slight bounce from your knees, press the kettlebell overhead till you arm fully extends, and then lower it.
The press is a powerful upper body exercise. It necessitates keeping your body tight and balanced while pressing the kettlebell overhead, as well as working your arm and shoulder.
Turkish Get Up
The Turkish Get Up makes kettlebell strength training work your whole body, though mostly its weak points. Starting lying on the ground with the kettlebell gripped firmly, you press it overhead and then slowly stand-up.
This feels less intense than the other kettlebell exercises, but don't be fooled. It works my core, arms, legs, and forces me to balance like nothing else. If there's a single weak link in your body this will find it... and temper it ;-)
The Snatch
The kettlebell snatch is a more difficult exercise to learn and master. It involves a same half-squat beginning as the swing, but instead of letting the kettlebell just swing up to your shoulder-height, the kettlebell goes up above your head. You hold it there for a second before reversing the movement and bringing it back down to the ground.
This movement develops the explosive movement of the lower body as well as a rock solid arm and shoulder from the punch-and-hold movement at the end of the snatch. Nice!
Conclusion...
These are the basic kettlebells exercises that you should expect to do if you work with kettlebells. Just create an effective kettlebell routine with these exercises to stay on track.
Training your body rigorously will get it to work as a single unit - whether you need that to deliver a punch, hit a ball, move a couch, swing a sword, or just lift more iron.
Oh, and be sure to sign up for the e-zine Starting Strong to get monthly strength training, exercise, and diet tips e-mailed to you - and access to the free e-book Train Smart, Eat Smart: Exercise Nutrition Hacks!
• Click here to go get more info about kettlebell workouts!
OR
• Click here to leave 'Basic Kettlebells Exercises' & go back to the Complete Strength Training Home-page.


Basic Kettlebells Exercises
References:
Tsatsouline, Pavel. 2006. Enter the Kettlebell!: Strength Secret of the Soviet Supermen. St. Paul, MN: Dragon Door Publications.
Tsatsouline, Pavel. 2001. The Russian Kettlebell Challenge: Xtreme Fitness For Hard Living Comrades. St. Paul, MN: Dragon Door Publications.