Simply Strong Kettlebell Routine
When done correctly, a kettlebell routine works your whole body. Nothing gets left out and there are no weak points -everything gets strong!
Weight training is one of the best methods of strength training! If you want to start weight training safely and effectively, with the best info, diet, and routines, check out the 5 Day Beginner Weight Training Course!
The Routines...
I've actually included two routines, a strengthening routine and a conditioning routine. The strengthening one is for pure strength, while the endurance will have you doing a lot more reps to give you endurance.
Whether you do these routines at the gym or at home, you need to keep track of your progress. Otherwise, you're just noodling around.
If you want to try out a kettlebell routine but don't have the kettlebells, do the movements but with dumbbells. This will give you an idea of how kettlebell work will impact your body and whether you want to invest in kettlebells.
Both of these routines are simple. I like simple. I can focus on just doing the workout and not on HOW to do it.
Finally, START SLOW! Choose a kettlebell weight that is heavy, but not too heavy. Go through the routine and see if you're sore the next day.
If you're not sore after doing it, add more weight. If you're sore, add more reps (conditioning) or get a slightly heavier kettlebell (strength).
For strength training, kettlebells have pretty big weight differences between them. You'll want to start adding reps if you can't handle the next weight up.
The Strengthening Routine...

To Download a PDF of the kettlebell workout for strength, simply right-click here and then click 'Save As'.
The strength routine has you do the Turkish Get Ups first, since they take the most effort to do correctly. When you're tired from them, you move on to exercises that take less focus to do with good form, like the Press and Clean & Press.
As long as you keep increasing the weight at regular intervals the higher repetitions will condition you.
Always
keep your weight moving up.
It only stays strength training as long as you increase the weight you work with. Constantly prove to yourself that you are increasing your strength.
The Endurance Routine...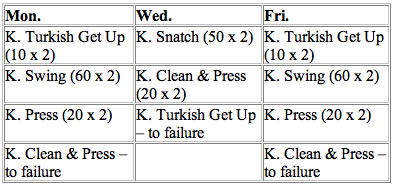 To Download a PDF of the kettlebell endurance routine, simple right-click here and then click 'Save As'.
Kettlebells are awesome for conditioning. The swing is my favorite, since it's so simple and works your legs and glutes darn well. That is the core of the conditioning routine.
These are efficient and simple routines. An endurance component as well as a strength component, and only a few exercises to perform.
In fact, many of you out there will think it's
too
simple. Not true - the most important components in strength training are exerting yourself and increasing weight.
Complex and intricate routines that make your brain hurt are not necessary.
Just switch the kettlebell routine up a little when you get bored, but remember - lifting heavier weights for strength and more reps of heavier weights for endurance it what it's about.
Oh, and be sure to sign up for the e-zine Starting Strong to get monthly strength training, exercise, and diet tips e-mailed to you - and access to the free e-book Train Smart, Eat Smart: Exercise Nutrition Hacks!
• Get more info about kettlebell workouts & exercises.
OR
• Go back to leave 'Simply Strong Kettlebell Routine' & go back to the Complete Strength Training Home-page.


Simply Strong Kettlebell Routine


References:
Tsatsouline, Pavel. 2006. Enter the Kettlebell!: Strength Secret of the Soviet Supermen. St. Paul, MN: Dragon Door Publications.
Tsatsouline, Pavel. 2001. The Russian Kettlebell Challenge: Xtreme Fitness For Hard Living Comrades. St. Paul, MN: Dragon Door Publications.