Using Muscular Isometric Contraction
What is isometric contraction? Isometric exercises are those in which the exercising muscle or limb does not move.[1]
Weight training is one of the best methods of strength training! If you want to start weight training safely and effectively, with the best info, diet, and routines, check out the 5 Day Beginner Weight Training Course!
That's the short answer! The longer answer, including how best to use isometrics in your workouts, takes just a bit more info.
Using Isometrics in Your Training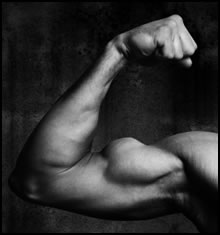 Isometric contraction is done with the body static. While you can do this without resistance, such as flexing your arms to show off your biceps (or most ab isometrics), the best way is to have some kind of immobile resistance.
A bar that can be set to any height is best. That way you can simulate different positions in weight training movements and isolate sticking points to increase your strength.
An important point to remember is that the bar is locked in place and you can't see it moving, or even see any real result from your efforts. So,you must consciously make yourself work as hard as possible at each workout.
It's easy to relax; it's hard to give it your all every time. But that is just what you need to do.
Keep doing your regular lifts so that you can see yourself progressing. That will also serve as a way to test your progress and get a feel for what working at your limits is like.
Sports-Specific Isometrics
Doing positions that mimic and fit into your weight training routine is a good, basic strategy. If you're training for a specific sport or physical discipline, find isometric exercises that mimic movements in that discipline.
For example, I do Japanese swordsmanship. One of the movements that forms part of swinging the sword is very similar to the tricep extension lift.
So, I find a weight that's way too heavy, set it in a position before the swing, and try to start my swing as hard as possible for 8-15 seconds.
Sprinters might set up as if they were just coming off their starting blocks and then push as hard as they can against a wall. This would build powerful strength for the first push-off in any race.
And since I'm not a runner, I bet you can come up with far more interesting and applicable exercises for your own running or sports than I can!
It just takes a little creativity to work these isometric exercises into your routine, but it gives great sport-specific benefits. Also, it keeps things new, interesting, and outside of that rut we get into so often.
Isometrics For You...
There are some basic isometric contraction workouts and exercises on this site to try out. Start with them, and then get creative with your own ideas.
Remember to have fun as you're practicing to be the irresistible force against the immovable object!
Oh, and be sure to sign up for the e-zine Starting Strong to get monthly strength training, exercise, and diet tips e-mailed to you - and access to the free e-book Train Smart, Eat Smart: Exercise Nutrition Hacks!
• Click HERE to learn more about isometric exercise!
OR
• Click HERE to leave 'Using Muscular Isometric Contraction' & go back to the Home-page!


References:
1. Brown, Lee E. 2007. Strength Training. Champaign, IL: Human Kinetics. Pp. 114.