How to Lose Belly Fat!
Want to know how to lose belly fat? With these simple pieces of advice you'll drop those pounds, earn your sexy abs, and get darn healthier too!
Weight training is one of the best methods of strength training! If you want to start weight training safely and effectively, with the best info, diet, and routines, check out the 5 Day Beginner Weight Training Course!
But if you want a full plan, check out my How to Get Abs e-book. It gives you a complete plan for getting ripped abs.
OK, let's go!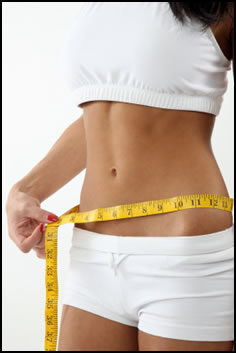 1. Exercise
Yes, it's obvious but it works great. Working exercise into your week, on just 2-3 days, will really make a difference.
However, there are only 3 kinds of exercise that burn fat well - cardio, HIIT, and strength training. Cardio exercises, like running or swimming, burns calories to cut down on fat. HIIT training is a special kind of cardio.
Strength training raises your metabolism for 24-48 hours after your workouts as you body recovers from the exertion. It also builds muscle, which makes you look hotter as well.
Keep in mind that 'spot-reduction' or 'spot-burning', exercises that supposedly burn off fat on specifics part of your body, is a bad joke. Where you carry your fat is pretty much genetically determined, so just drop fat from your entire body.
2. Improve Your Diet
As always, don't eat chocolate eclairs all the time. How to lose belly fat? Eat healthy foods!
So here's what to do: Eat 5-6 small meals a day, stick with lean meats, non-hydrogenated fats, and lots of vegetables.
Eating frequently will keep your insulin levels from spiking, and eating non-processed foods makes you spend more calories working to digest your food. So, eat frequently and healthy for a flat stomach.
And eat less.
3. Relax
Yes, relax. When you're stressed out your body releases cortisol, adrenaline, and insulin.
Cortisol increases blood pressure and blood sugar levels, and the consequent release of insulin to regulate your blood sugar puts a strain on your body. Constantly putting strain on your bodies functions like this will make you convert a lot of sugar into fat, as well as making you feel frazzled.
So, take a walk, try meditating, or read a good fiction book. Take some time for yourself and you'll drop the fat.
4. Sleep
When you think about how to lose belly fat, sleep doesn't jump to straight to mind, but it does work. Or rather, not being sleep deprived works.
Chronic sleep deprivation lowers you levels of leptin, which is a protein that tells you when you're full when eating. It also lowers your levels of insulin, making it harder to regulate your blood sugar levels.
So, get 8 hours of sleep at night!
5. Track Yourself
Track you progress by weighing yourself and measuring your body fat percentage. This way you know if you're dropping fat.
Also, try taking pictures of yourself each week. Since you see yourself everyday it's easy to miss seeing your progress. Photos remind you how far you've come!
If you want a more complete and structured plan, though, read my How to Get Abs e-book. It contains exact, step-by-step instructions for how to get ripped, with exercise and diet info.
Now start using what you just learned about how to lose belly fat to drop those pounds and get your sexy abs.
Oh, and be sure to sign up for the e-zine Starting Strong to get monthly strength training, exercise, and diet tips e-mailed to you - and access to the free e-book Train Smart, Eat Smart: Exercise Nutrition Hacks!
• Click here to learn more about getting a Six Pack Stomach!
OR
• Click here to leave 'How to Lose Belly Fat!' & go back to the Home-page!


References:
Brungardt, Kurt. 1993. The Complete Book of Abs. New York: Villard Books.
Geary, Michael D. 2006. The Truth About Six Pack Abs. S.l: s.n.
Venuto, Tom. 2003. Burn the Fat, Feed the Muscle. Fitness Renaissance, LLC.