How to Get Ripped Fast:
The Simple Guide That Really Works!
Here are the essentials for how to get ripped fast. They really work, but you have to work hard if you really want results quickly.
Weight training is one of the best methods of strength training! If you want to start weight training safely and effectively, with the best info, diet, and routines, check out the 5 Day Beginner Weight Training Course!
With your hard work and this excellent plan, you will get ripped fast.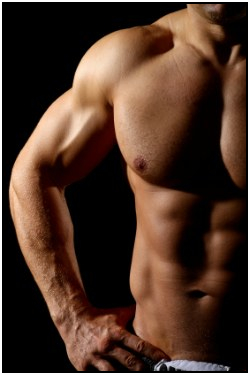 ◆ Do Weight Training

Weight training is a must for getting ripped. This will build up your muscles, and if you're dieting, keep them intact.
Try this basic weight training program if you haven't done any lifting in the past. A few big, simple lifts done just 2 to 3 times a week will really build you up.
This will give you the muscle for how to get ripped fast. The other parts of this program are targeted at helping you cut the fat, which will make you look 'ripped' and not 'bulky.'
◆ Sprint or Run 1 or 2 Times a Week

Sprinting is a great exercise. So is running.
These exercises are great because they (1) don't take much time and (2) make you really exert yourself. You can easily plug them into your schedule, and use them to burn fat.
Just make sure to start slowly at first if you haven't been active for a while. Getting yourself injured is not how to get ripped fast, so don't push yourself too hard too soon.
◆ Do Lots of Low-Intensity Exercise (Walking, Biking, etc.)
Since you're already doing weight training and some running, you need some other way to burn fat that won't put a ton more stress on your aching muscles. Here's where low intensity exercises like walking and biking come in.
Even if you're really sore, you can probably manage walking around. It's not too difficult, and your body can still build up your muscles from your weight training.
Of course, walking is pretty low intensity. So to burn an appreciable amount of fat you'll have to walk for a good amount of time, like 1 to 2 hours a day, minimum.
Since you're focused on how to get ripped fast, you need to put in a tonof effort. You're trying to make up for a lot of bad diet and exercise habits in a few days or weeks, so don't expect it to be easy. ;-)
◆ Have A Good Post Workout Drink or Meal
For the food that you are eating, make sure that a good chunk of it is your daily protein requirement as part of a good post workout drink or meal. This will further help you use the food that you do eat for gaining muscle, not putting on more fat.
When your body is most spent and tired, right after your workout, it's yearning for more raw materials to build itself back up. Give it that energy, but not so much that you put on fat!
◆ And EAT LESS!
No matter what workout you're doing, if you want to get ripped abs fast (and a ripped body) you need to eat less. All the diet tricks and methods in the world are just ways of helping you do that to get rid of fat.
If you want to be really specific, calculate your base metabolic rate and then eat about 750 calories a day less than that. This way, you'll lose around 1.5 to 2 pounds a week of fat.
This is the most weight you should lose a week. If you start cutting more than 1.5 to 2 pounds, you'll start losing muscle as well, which is theopposite of what you're trying to do.
Why This Works
This program works. I've used it to drop fat fast, and it works because its foundational ideas are solid.
Your weight lifting builds up your muscles. Your running and walking work to burn fat. And eating less means that you will drop fat and get that ripped look.
AND I GUARANTEE YOU WILL NOT GET RIPPED IF YOU DON'T EAT LESS!!!
With these fundamentals in place, your motivation will determine what kind of progress you make. You can drop 1.5 to 3 pounds of fat a week through diet and exercise if you religiously follow this guide for how to get ripped fast.
BUT, Regular Exercise To Get Ripped Slowly Is Superior!
No matter how hard you work, even using an excellent battle plan for how to get ripped fast like this one, there is no substitute regular exercise and a healthy diet. None.
You can lose a significant amount of fat each week using this method, but it takes a lot of effort, and still takes time.
And if you're significantly overweight, there's really not a whole lot you can do in a few days. You've been treating your body badly for a while, and you can't turn it around in such a short time.


You can get significantly more ripped this week. Dropping 2 pounds of fat is really good progress, and along with keeping your muscle intact (or increasing it) you will look hotter and more ripped.
If you keep this up for several more weeks, and make exercise and healthy eating into a regular habit… You can go a long way!
It all depends on how far you have to go, and how much you desire to get there.
You'll be surprised by how much progress you can make in a week, in a few weeks, in a month. And in a few months or less, you will be totally ripped!
Oh, and be sure to sign up for the e-zine Starting Strong to get monthly strength training, exercise, and diet tips e-mailed to you - and access to the free e-book Train Smart, Eat Smart: Exercise Nutrition Hacks!
• Click here to learn more about how to Create Your Own Best Weight Loss Plan!
OR
• Click here to leave 'How to Get Ripped Fast: The Simple Guide That Really Works!' & go back to the Home-page!