How To Become Stronger? Just Do...
There isn't a big secret about how to become stronger. It's mostly hard work, and anyone can get stronger through using basic exercises and slowly increasing difficulty.
Weight training is one of the best methods of strength training! If you want to start weight training safely and effectively, with the best info, diet, and routines, check out the 5 Day Beginner Weight Training Course!
And of course, the obvious method for how to get stronger is to lift weights or do some kind of strength training.
But before we get stronger, first ask…
What Is Strength?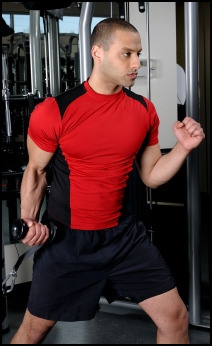 Strength is the ability to move heavy weights. Getting stronger means being able to move heavier weights than you were able to before, as well as being able to move lighter stuff easier.
Training for endurance or muscle size is different. For example, if you run further and further each day you are increasing your running endurance, not your absolute leg strength.
Doing 100 push ups is the same deal. It's impressive, but primarily an endurance exercise.
Many kinds of exercise are great, but only by working with weights that are near your limit (in terms of stuff that you can lift) can you increase your strength.
The primary benefit of strength training is that you get stronger. So, how do you build that strength?
1. Do Something Different
You're already perfectly strong enough to do what you do regularly. Your body's adapted to it. Now you need to do something else regularly, to make your body grow.
Start lifting weights or doing bodyweight exercises. Do some form of exercise that puts your body through a more intense effort than you have been doing.
2. Progressive Overload
Each time you lift weights, lift a little more weight than you did the last time. In some way, make the exercise more intense.
You get stronger by progressively overloading your muscles. You won't get much stronger on a day to day basis, but seen over the course of weeks and months of stretching your comfort zone and limits you become much stronger.
3. Rest
To get stronger, after your workout you have to rest. Lifting every day worn't help you; in fact, you'll probably injure yourself.
Rest keeps balance with your intense exercise, and is actually the time when you grow stronger. When you do strength training for how to become stronger, you cause a small amount of damage to your muscles (micro trauma and tears). When you rest, your muscles rebuild stronger than before.
4. Frequency & Intensity

How often & how hard should you workout if you want to know how to become stronger?
Enough so that you're sore a lot of the time, and you steadily make your workouts more intense to keep pace with your improving strength. Just a little more intense…
2-3 Days a week in the beginning is fine. If you're sore, don't workout - it won't make you stronger. And if you aren't sore, you need to workout to get sore and get stronger.
Is That It For How To Become Stronger?
Yes.
While you might hear otherwise on the net, and read about secret Russian strength training methods and ancient techniques by Shaolin martial arts monks, the basics are simple.
The 'secrets' that most people talk about are almost never that secret - or that effective.
Oh, and be sure to sign up for the e-zine Starting Strong to get monthly strength training, exercise, and diet tips e-mailed to you - and access to the free e-book Train Smart, Eat Smart: Exercise Nutrition Hacks!
• Click here to learn more about the Benefits of Physical Fitness & Exercise!
OR
• Click here to leave 'How To Become Stronger? Just Do...' & go back to the Complete Strength Training Home-page!