Simple Calories Burned While Walking Calculator
Want to know how many calories burned while walking around? You've come to the right place.
Weight training is one of the best methods of strength training! If you want to start weight training safely and effectively, with the best info, diet, and routines, check out the 5 Day Beginner Weight Training Course!
Simply plug your info into the calculator below. It's dead simple, which is why I use it.
How Many Calories You Burn Walking...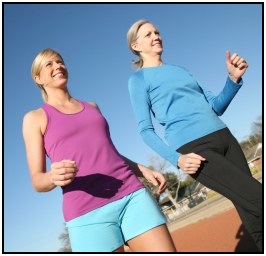 ◆ Walking Formula:
This applies to speeds of 1.9 to 3.7 miles per hour. This would be around walking speed 'till when you're just starting to jog.

◆ Running Formula:
This applies to treadmill and outdoor running speeds faster than walking (above). This would be jogging on up to sprinting as hard as you can away from angry guard dogs on small tropical islands (don't ask).

The Incline Fraction Grade is for if you're running on a treadmill. It's the amount of incline per 100 units of belt on the treadmill - which will show up on the screen when you're working on the treadmill.
E.g.: A 5% grade of incline should be entered as 0.05
Walking and Running
Calories Burned Calculator
Why Calories Burned While Walking Is Not The Key To Fat Loss
Exercise does burn calories, no question. And it can help you lose weight. But...
If you're still eating too much, you will weigh the same or gain weight. So in the end, what you're eating is really going to make or break your weight loss attempts.
And since you want to find out about how many calories you burned, I assume you're focused on losing weight.
Also, walking around doesn't burn that many calories. From the calculator above you can see how many calories you burned while walking, which isn't a whole lot. Maybe 100, 200, or 400, tops?


Walking and exercise are good, I'm not saying they aren't! Walking is a great beginning exercise if you're out of shape, a great lifelong exercise, and one that you can do virtually anywhere and easily add to your activities during the course of the day.
But I'd like to put it in perspective. A half-hour of walking can easily be canceled out with a Tall Starbucks Hot Chocolate, a cupcake, or any other 'reward' for exercise.
If you're serious about losing weight, then calculate your base metabolic rate. Once you know that, you can start eating fewer calories than that to lose weight.
Exercise is great for burning some extra calories. And it's especially good for maintaining lean muscle while you're losing fat.
But what you put in your mouth (or rather, don't) will have the most impact on your weight loss efforts - more than your calories burned while walking around. And once you understand that, losing weight is simple - though not exactly easy ;-)
Oh, and be sure to sign up for the e-zine Starting Strong to get monthly strength training, exercise, and diet tips e-mailed to you - and access to the free e-book Train Smart, Eat Smart: Exercise Nutrition Hacks!
• Click here to learn more about how to Create Your Own Best Weight Loss Plan!
OR
• Click here to leave 'Simple Calories Burned While Walking Calculator' & go back to the Home-page!