Weight Training and Joint Pain:
An Interview With Bill DeSimone
- Part 1 -
Bill DeSimone is an expert on weight training and joint pain, -- specifically, on lifting weights correctly to ease and eliminate joint pain!
He was led to this method of training asa result of his own training injuries, which prompted him to reexamine how he lifted weights. The book Moment Arm Exercise was his first bringing his insights to the general public. His recently released Congruent Exercise: How To Make Weight Training Easier On Your Joints expands and refines his techniques and methods.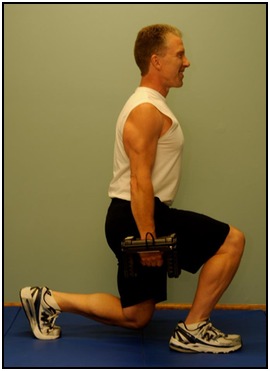 I think Bill's really cool because he's able to unify textbook biomechanics and pragmatic exercise! Few people would have even attempted that, and Bill not only tried - but actually did it!

In this interview, Bill and I discuss how he came to his training methodology, for whom congruent style exercise is appropriate, diet, why functional training is B.S., and why he thinks barbell squats might not be the safest way to build lower body strength. Check it out below...
---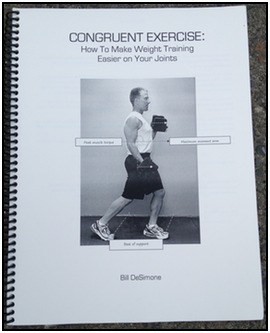 Aaron:

First off, Bill, thank you very much for agreeing to be interviewed, and what is your exercise background?

Bill:

Currently, I'm ACE certified, and I previously had a couple of NSCA certifications, which I let lapse. But before those, I started as a trainer back in 1983 at probably one of the original places in New York City. Prior to that, I probably started training just some friends in garages and basements and such, probably around 1970.

Aaron:

So, you've got a lot of experience in this then?

Bill:

Right. Yeah, and I guess through the magazines, I guess in the '70s, I came across Mike Mentzer's writing, which was what I thought was the best instruction that was around at the time.
Now, at this point, I consider myself HIT influenced rather than pure HIT just because I've refined what I do in terms of weightlifting. I'm not as concerned with forced reps or pre-exhaustion, or any of that type of stuff. I do include physical activities other than weightlifting. But, at the time, I thought Mentzer's stuff was great.

Aaron:

Yeah, I've seen his stuff as well, and it's very 'on' for the high intensity training. So, you're practicing...

Bill:

What stood out about it in the '70s was that nautilus wasn't quite as prominent. In the '70s, nautilus and high intensity type training were more known in professional football, that arena, not so much through the muscle magazines at the time. Mentzer was one of the few guys at the time not only publicizing it but also had the competition records to back it up.

Aaron:

That is very, very important. You were practicing all of these. How did you come to the methods that you lay out in "Congruent Exercise," your specific exercises there and your specific approach to training?

Bill:

When I was around 40 years old, I ruptured my own biceps and triceps while training. Not only did I do that after years of studying HIT material and NSCA material and everything else that I could get my hands on, as far as exercise literature. But, when I recovered, there were some exercises in which I lost no strength at all and others I couldn't even get into position.
So, that led me to put the exercise material aside, and I went to mechanics, anatomy, and biomechanics texts to try to figure what was going on. What I ended up doing was I would start with a basic exercise and compare that to the muscle and joint function that was in the anatomy and biomechanics textbooks. Then, I would modify the exercise to match the proper muscle and joint function.
The first set was to be the "Moment Arm Exercise" manual. Then I turned it into a presentation for Club Industry and for the NSCA and the HIT seminars, then the YouTube series. Then, finally, was the "Congruent Exercise" manual. Each step along the way, I tried to refine it a little bit more.
Oh, and be sure to sign up for the e-zine Starting Strong to get monthly strength training, exercise, and diet tips e-mailed to you - and access to the free e-book Train Smart, Eat Smart: Exercise Nutrition Hacks!
• Click here to Learn More About Health Diet Exercise Stuff From The Experts!
OR
• Click here to leave 'Weight Training and Joint Pain: An Interview With Bill DeSimone' & go back to the Home-page!